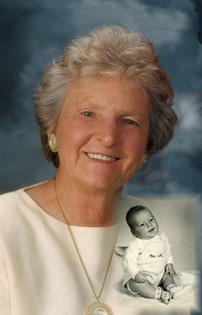 Virginia Twitchell
Mar 22, 1933 - Jun 14, 2021
Virginia Mae Helms Twitchell returned to the arms of our Heavenly Father on Monday, June 14, 2021. She passed peacefully at the Wyoming Medical Center in Casper, Wyoming surrounded by loved ones. She joined her first born son, Louis "Sandy" Twitchell, Jr., who passed away at 11 months of age in 1950, as well as her parents, Mildred and August Helms. Virginia leaves a legacy of love behind to her husband of 72 years, Louis Twitchell, their daughter, Wanda (Grant) Nicholas; son, Justin Twitchell; daughter, Luanne (Rory) Luther and daughter, Suzie Shakespeare; 12 grandchildren; 25 great-grandchildren and her sister, Josephine Morris.

Born March 22, 1933 in Lander, Wyoming, Virginia took advantage of the adventures offered in the Lander valley area along with her sister. They enjoyed ice skating, fishing on the Popo Agie River and bike riding. Virginia discovered her musical talents at a young age. She loved playing the clarinet, baton twirling and dancing. She met the love of her life and eternal companion, Louis Twitchell, in high school. They were married June 11, 1949, and never looked back. They were later sealed for time and all eternity on December 22, 1973, in the Provo Utah Temple.

Virginia and Louis lived a life full of memorable experiences. They started out on the Twitchell Family Dairy Farm. They then explored the western United States as they followed Louis' work for an oil exploration company with their two young children, Wanda and Justin. They returned to Wyoming with Louis' work and began building their own cattle operation. Virginia returned to her passion of education at the age of 40 and graduated with honors from the University of Wyoming. She earned a Bachelor of Education degree and maintained a 4.0 grade point average with her two youngest daughters, Luanne and Suzie, in tow.

Virginia served her community in several ways. As a young mother herself, she babysat many other children. She also worked as a nurse's aide at the Bishop Randall Hospital. She taught many students in the Fort Washakie and Wind River elementary schools, sometimes bringing them home with her for a warm meal and tutoring. In the Church of Jesus Christ of Latter-Day Saints, Virginia served vigilantly in numerous callings. She especially loved genealogy and the people of the Wind River Branch. She was known to take meals to the overburdened. She knew so many individuals and when she saw them, she was always encouraging, uplifting, and supporting of them.

Virginia lived and left a timeless and vast legacy of love on this earth for anyone who had the pleasure and honor to know her. While her family feels her absence every day, they find peace knowing she is in heaven, cradling her Baby Sandy.

Please join the family in honoring her life on Wednesday, June 23, 2021 at The Church of Jesus Christ of Latter-Day Saints in Fort Washakie, Wyoming. A private viewing will be held at 10:30 a.m. for family members. Funeral services will be held at 11:00 a.m. with interment following at 12:30 p.m. at the Mount Hope Cemetery in Lander, Wyoming.

On-line condolences may be made to the family at www.TheDavisFuneralHome.com.

Services under the direction of Davis Funeral Home.