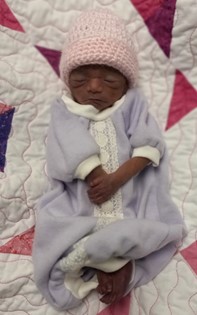 Ariel Rosaline Bernice Mendoza
Aug 25, 2021 - Aug 25, 2021
Ariel Rosaline Bernice Mendoza of Arapahoe passed away August 25, 2021 at Sage West Hospital in Lander, Wyoming.

Traditional Native American services will be held 10:00 a.m. Monday, August 30, At Angie Spoonhunters Residence 22 Red Crow, with graveside rites to follow at St. Stephen's Catholic Cemetery. A wake will be held at 22 Red Crow, starting around 7:00 p.m. on Sunday.

Ariel was born August 25, 2021 in Lander, Wyoming to Jose Luis Mendoza Sr. and Talyn Rose Addison.

Ariel is survived by her parents: Talyn Rose Addison and Jose Luis Mendoza, Sr., Siblings: Jeneah Larae Mendoza, Jose Luis Mendoza, Jr., Achilles A.A. Addison, Grandparents: Monica Watan, Anthony Addison, Jr. Bernice Watan, Angela Spoonhunter, Al Addison, Sr., Karen Brown, Wilhelmina Spoonhunter, Antonia Revere, Moneta Duran, Ashley Addison, Sr., Dave Bell, Sr. Ryan Spoonhunter, Ray Spoonhunter, Margaret C'Bearing, Shirley Buckman, Patricia C' Bearing, Craig C'Bearing, Melvin Littleshield, Sr., Samatha Litleshield, Cindi Littleshield, Aunts: Alyssa Addison, Destiny Willow, Tianah Ferris, Paige Bowstring, Halle Hall, Leighanna Shoulderblade, Taleah C'Bearing, Catherine Washakie, Rosie Arthur, Mikayla Littleshield, Kylee Littleshield, Hailee Littlecoyote, Maliyah Littleshield, Uncles: Saige Addison, Anthony Addison, III., Rosendo Mendoza, Mario C'Bearing, Roberto Hernandez, Ryan Bowstring Sr.. Caleb C'Bearing, Jori Shakespeare, Javaun Shoulderblade, Ashley Addison, Jr., Chase Washakie, Cole Littleshield, Elijah Littleshield, Melvin Littleshield, III., Isaiah Littleshield, Devin Littleshield, David Black, Jordan Black, Taylor Littleshield, Terrence Littleshield, Alex Whitebird, Daniel Whitebird, Brytan Spoonhunter, Ward Spoonhunter, Orlando Morales and Joseph Moss. & Family Relations: Goodmans, Spoonhunters, Smiths, Shakespeares, Watans, Underwoods, Littleshields & Addisons.

Ariel was preceded in death by Linus C'Bearing, Melvin Littleshield, Jr., Cameron C'Bearing, William C'Bearing, Stephanie C'Bearing, Michelle Littleshield, William C'Bearing, Elizabeth Goodman C'Bearing, Ted Watan, William Spoonhunter, Roy Spoonhunter, Sr and Lettie June Spoonhunter.