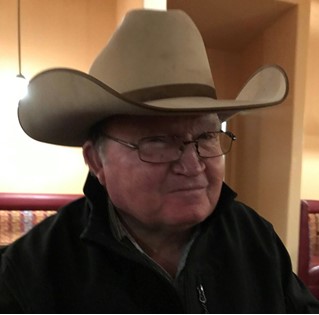 Justin Miller
Aug 13, 1949 - Sep 21, 2021
Graveside services for Justin Miller, 72, will be held at 10:00 a.m., Tuesday, September 28, 2021 at Mountain View Cemetery. A Wake will be held at 6:00 p.m., Monday, September 27, 2021 at 1700 Blue Sky Hwy in Kinnear, Wyoming.

Justin was born on the 13 of August 1949 in Fort Washakie, Wyoming to Martha (Stoll) and Orris Miller. He passed on the 21 of September 2021 at his home.

He began his schooling at Crowheart School and graduated from Morton High School in 1967. He participated in football, basketball, and track throughout his high school years. Cowboying was what he loved. He believed in honest and fair dealings in everything he did. He began his career working at Bear Creek Ranch and the Double Diamond. On one of the luckiest days of his life, which was the 14th of January 1972 he married Wanda (Aragon) and later that year had his daughter Denise. He then went to work at Big Sandy Grazing Association and then for Jim Barquin prior to having his son Eric. In 1977, he and his wife began working their own ranch at the base of the Owl Creek Mountains. Along the way he basically adopted 4 more kids, Justin (Red) LaJeuness, Tom Miller, Dewayne and James Aragon. He also supported his numerous nieces, nephews, and grandchildren in their numerous activities. He never met a horse or a kid he didn't like. He loved the simple cowboy lifestyle until he moved along. We will miss his guidance and acts of kindness.

Survivors include his loving wife of 49 years, Wanda Miller; daughter, Denise (Neal) LaJeuness; son, Eric (Holly) Miller; nephew, Justin (Phyllis) LaJeuness; grandchildren, Tamara (Tyrell) Duncan, Benjamin LaJeuness, Jaxon Miller; great granddaughter, Marleigh "Little Stinker" Duncan; sisters, Mary Foster, Trudy (Neal) Long, Dorris Kear and Penny Miller; brothers, Tim (Pam) Miller, Dennis Miller and Orris Miller; numerous nieces and nephews.

He was preceded in death by his parents, Orris and Martha Miller; brothers, Bucky Miller, Charles Miller, Marvin Miller and Arvin Miller; sister, Sally Thunder.

On-line condolences may be made to the family at www.TheDavisFuneralHome.com. Services are under the direction of Davis Funeral Home in Riverton, Wyoming.