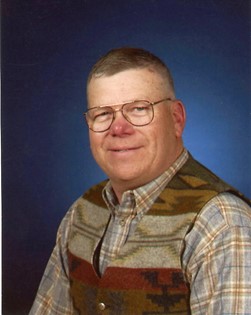 Bob Esser
Apr 9, 1944 - Oct 3, 2021
Bob Esser, 77, of Riverton passed away Sunday, October 3, 2021, at the Wyoming Retirement Center in Basin, WY after battling a long illness. Memorial services will be 10:00 a.m. Saturday, October 9, 2021, at the United Methodist Church in Riverton. A reception will follow in the Fellowship Hall. Attendees are asked to honor Bob Esser by wearing his favorite color of blue at the service and reception.

Robert Allen Esser was born April 9, 1944, in Pratt, Kansas, to Allen Charles Esser and Myra Elizabeth (Mounsey) Esser. He grew up in Medicine Lodge, Kansas, graduating in 1962. He attended college in Alva, Oklahoma. He married his high school sweetheart, Lesta Nan Freeman, on September 1, 1966. He and his new bride then moved to Tulsa, Oklahoma, where he studied Aircraft and Propulsion (Aeronautics) at the Spartan College of Aeronautics and Technology.

Bob, Lesta and their three-month-old daughter Robyn moved to Riverton in 1971 in a snowstorm. Bob worked as the shop foreman and corporate pilot at Gilpatrick Construction for 26 years. He then entered private business and owned and operated Bob's Fire and Safety for nine years. He sold the business in 2008 and retired.

Bob and Lesta celebrated their 50th wedding anniversary on September 1, 2016, by taking their family on a Western Caribbean Cruise. Lesta passed away peacefully on September 4, 2018.

Bob was a long-time leader of the Boy Scouts of America. More than a dozen of his scouts attained the rank of Eagle Scout while he was Scoutmaster. He was Vigil Honor as part of Order of the Arrow, the highest rank of Order of the Arrow in scouting. He was a member of Wood Badge, an advanced national leadership course in scouting. He also held leadership positions for the Central Wyoming Council.

Bob was one of the first two Riverton hot air balloon pilots, and he was a long-time member of the Riverton Airport Board.

He enjoyed hunting, fishing, camping, woodworking, backpacking, metal work, and he was a member of "The Band," playing bass guitar. Most of all, he enjoyed watching his grandsons' sporting and school events, always with his wife Lesta.

He is survived by a son, Justin Esser, of Cody, WY; a daughter, Robyn Beers (Cody) of Riverton, and their children, Brady Kelvie Beers (Citlalli Almejo-Ponce) and Baylor Justin Beers (Hally), all of Laramie; brother George Esser (Judy) of Brush, Colorado; nieces Stacy Pollart (Matt) of Brush, Colorado, and Jayna Smith-Flores (John) of Lakin, Kansas, and their families; the Workman family of Wichita, Kansas; grandson Ivar Lundby of Bardufoss, Norway; and many special friends.

He was preceded in death by his wife, Lesta Esser; his parents, Allen and Myra Esser; and his parents-in-law, Orville "Guy Guy" and Esther "Granny" Freeman.

Memorial contributions may be made to Camp Buffalo Bill in care of Davis Funeral Home, 2203 W. Main St., Riverton, WY 82501. Camp Buffalo Bill is located eight miles east of Yellowstone National Park, west of Cody, and has provided a quality summer camp experience for members of the Boy Scouts of America from Wyoming and across the country since 1949.

On-line condolences may be made to the family at www.TheDavisFuneralHome.com. Services are under the direction of Davis Funeral Home.