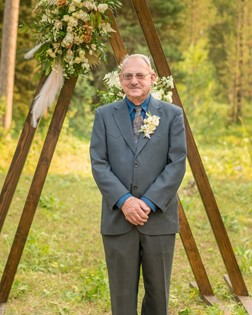 Dennis Thomas
Sep 11, 1942 - Oct 9, 2021



A funeral service will be held for Dennis Dale Thomas at Davis Funeral Home in Riverton, Wyoming with Pastor Dave Case presiding. It will take place on October 19th, 2021 at 2 pm with internment at Mountain View Cemetery in Riverton, Wyoming. A visitation will be held from 1 pm - 2 pm on October 19th at Davis Funeral Home.

Dennis passed away on October 9, 2021, at the Billings Clinic in Billings, Montana at the age of 79.

He was born September 11, 1942, in Troy, Pennsylvania to Lynn and Dorothea Thomas. Dennis was blessed with six siblings. Carol Ward (Deceased) of Florida, Ellen Forbes of North Carolina, Alice Coe of North Carolina, Paula Young of Michigan, Lois Baker of New York, and Fred Thomas of California.

Dennis served in the Navy on USS Forestall for 4 years during Vietnam. He married Mary Ellen Thomas (Smith) on June 9, 1973, in Troy Pennsylvania, and gained two stepsons - Richard (Lori) Case of Vernal, Utah, and David (Ruth) Case of Riverton, Wyoming. While in Troy, he enjoyed working as a postman. Dennis's good friend, Bill Moffat, encouraged him to move to Wyoming. Dennis and Mary first moved to Rock Springs/Farson Wyoming area while Dennis worked at Bridger Coal. This allowed them to be close to their kids and grandkids. In 2004 Dennis and Mary moved to Douglas, Wyoming to be closer to their grandchildren.

Dennis was known as "Grandpa Denny" to his 4 grandchildren Kristin (Randy) Watson of Riverton, Seth Case of Riverton, Annie (Roy) Nelson of South Jordan, Utah, and Dayton Case of South Jordan, Utah; and great-grandchildren, Ryan Watson and Ainslee Watson both of Riverton. He loved sharing his passions with them, such as camping, hiking, wildlife viewing, photography, competitive shooting, coin collecting, gold prospecting, artifact finding, and NASCAR. Grandpa Denny was known to be a little mischievous with his classic phrases and various board games, but he always had ice cream or Oreos for the end of the evening.

Mary preceded Dennis in death on April 1, 2020. Dennis chose to lay Mary to rest in Riverton, Wyoming. He resided there for the last year and a half of his life to be close to Mary and several family members.

Serving as pallbearers will be Fred Thomas, Seth Case, Dayton Case, Ryan Watson, Randy Watson, and Roy Nelson.

A memorial to the donor's choice would be appreciated by the family.

On-line condolences may be made to the family at www.TheDavisFuneralHome.com.

Services under the direction of Davis Funeral Home.