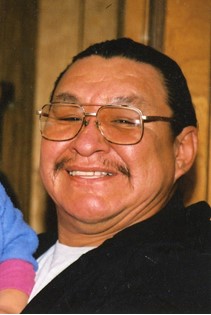 William Addison, I
Sep 26, 1956 - Nov 5, 2021
Funeral services for William Michael Addison, I, 65, will be held at 10: 00 a.m., Friday, November 12, 2021 at Stella Addison's residence, 221 Givens Road. Interment will follow at Sharpnose Cemetery. A Wake will be held at 7:00 p.m., Thursday, November 11th, at 221 Givens Road.

Mr. Addison passed away on Friday, November 5, 2021 in Casper, Wyoming.

He was born on September 26, 1956, son of Mervin R. Addison, Sr. and Stella Marie (White Antelope) Addison in Riverton, Wyoming. William attended Mill Creek Elementary. While he attended Wyoming Indian School, William was known as an outstanding athlete in all sports. Mr. Addison earned his Associates Degree from Casper College. He grew up on the Wind River Reservation until 2001, when he moved to Casper, Wyoming where he remained until his passing.

William enjoyed listening to music and playing his guitar, watching movies and spending time with his friends and family. He especially enjoyed watching his children in their daily activities.

In his teens, he began working at the Arapaho Ranch. He served as a fire fighter for Shoshone and Arapaho forestry service. He also worked on the oil rigs and for the Shoshone and Arapaho Early Head Start Program. His most recent job was working as a custodian for Natrona County High School.

Survivors include his daughters, Patricia Addison and Holly Addison; adopted daughter, Talia Addison; step-daughter, Kayla Seminole; adopted son, Michael Hatt, Jr.; brother, Mervin Addison, Jr. (Jay-R); sisters, Arilda Addison-Chavez, Frances Addison, Gwen Addison-Duran;

He was preceded in death by his wife, Lynell Groesbeck-Addison; parents, Mervin and Stella Addison; brothers, Everette Addison, Stanford Addison, George Addison and David Addison; son, William Addison, II; nephews, Adrian Addison, Andre' Addison, Gregory Duran, Beau Addison; nieces, Bernadette Addison, Baby girl Suzanna, Baby girl Amanda Duran; grandparents, Burdick Addison, Cora Goodman-Addison, Mike White Antelope and Martha Shotgun-Addison.

On-line condolences for the family may be made at theDavisFuneralHome.com. Arrangements are under the direction of the Davis Funeral Home.