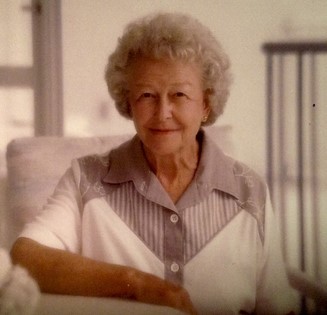 Jacqualine "Jackie" A. Coates
Jan 9, 1928 - Nov 8, 2021
Jackie Coates, passed away November 8th 2021 at Westward Heights Care Center in Lander, WY. She was 93 years old. According to her wishes cremation has taken place and she will be laid to rest at Mountain View Cemetery in Riverton with family.

Jacqualine Amelia was born January 9, 1928 in Riverton, Wyoming to Fredrick William (Bill) Chopping and Arrah Fairy Ridgeway Chopping. They had three children. Geraldine, Jacqualine and William (Bill) Chopping. Jackie's father Bill and all the Chopping brothers moved to Riverton, Wyoming around 1911. Bill owned and operated the West Drive In on Main Street in Riverton.

Jackie married Robert John Coates in 1947 after graduating from Riverton High School. They had a son, Daniel Paul Coates and a daughter, Shayne Marie Coates they raised in Riverton. Jackie moved to Sunnyvale, California in 1967 where she worked for Motorola as a Safety Engineer until she retired in 1983. She then returned to Riverton in 1998 to be near her loved ones and enjoy her retirement.

She loved spending time with her family. Her favorite pastimes were tennis, painting and line dancing at the Senior Center. Her favorite time was spent snow birding in Why, Arizona with her longtime partner Robert Andrews.

Survivors include her daughters, Shayne Coates Dix, Diane Polly and her husband Jon; grandchildren, Tricia Sclimenti and her husband Frankie Sclimenti, Tamra Rodriguez and her husband David Rodriguez, Maureen Childers and her husband Aaron Childers, Susan Coates; great-grandchildren, Rudy Lozano, Melissa Rodriguez, Rebecca Rodriguez, Anna Rodriguez, Jessica Childers, Erin Childers, Connor Childers, Devin Bridge, Gabe Hyland, Dean Koncilia and Daryl Polly; nieces, Shirley Haggerty Anderson, Ellen Haggerty Eiseman, Edith Haggerty Pryor, Sandra Haggerty Bolte, Faye Haggerty Hill, Karen Chopping Dick, Connie Chopping Gatenbein, Doniel Benson Piaz, Janelle Benson Osterloh; nephews, Roy Haggerty, Randy Hunter, Jim Sims, Doug Sims, Ross Sims, August Benson and Richard Benson; Step sister, Lois White Benson; sisters in law, Norma Coates Sims and Joy Coates LaFoya.

She was preceeded in death by her father, Fredrick William Chopping; mother, Arrah Fairy Ridgeway McCoy; sister, Geraldine Chopping Haggerty; brother, William Chopping; Jackie was the last survivor of three siblings; step sister Donna Mae McCoy Littrell; son, Daniel Paul Coates; granddaughter, Rylan Polly; great niece, Robin Huelle; nieces, Sherry Chopping Harris, Jody Thompson Apodaca; nephews, Ronnie Chopping, Jeff Thompson, Jeff LaFoya.

Memorials may be made to the Riverton Senior Center in care of the Davis Funeral Home, 2203 W. Main Street, Riverton, WY 82501.

On-line condolences may be made at TheDavisFuneralHome.com

Arrangements are under the direction of the Davis Funeral Home and Crematory.