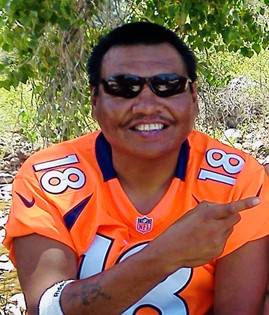 Vernon Manderson
Jan 17, 1972 - Jan 25, 2022
Vernon Lance Manderson passed away on Tuesday, January 25, 2022 at the Help for Health Hospice Home in Riverton, Wyoming. Graveside services will be held at 11:00 a.m., Monday, January 31, 2022 at the Arapaho Catholic Cemetery

Vernon was born on January 17, 1972, son of Charles R. and Barbara J. (Friday) Manderson in Riverton, Wyoming. Vernon grew up in Riverton, Arapahoe and the Ethete areas. He went to Wyoming Indian High School but graduated from Riverton High School. Mr. Manderson traveled to Albuquerque, New Mexico for school, attending Sipi Indian College.

During Vernon's younger years, he worked as a fire fighter. Mr. Manderson worked for his dad, Charles Manderson at Pine Tree Construction and also his brother, Thomas Durgin at Durgin Construction as a laborer.

Vernon had so many different names that he went by; his most favorite was Maholic. He was named Smokey by Grandpa Samuel Friday and then settled into Maholic but also went by Vern, Rick Ross, Yellow Fish and Hebe. He gave all his close friends, nick names as well!

He was a friend, a baby sitter to many of his friend's kiddos and was a very caring and generous man. He loved babies though he had no children of his own. Vernon lived, laughed and loved, cared about a lot of friends and family. He enjoyed basketball and in fact, his Dad made him a hoop 10 foot high so he could learn to jump higher and he did. He was a fisherman and he hunted all year long he was one of the original Aunties Slayer. Football was his game if the Denver Broncos were playing, he was there. He owned over 25 jerseys and was very proud when he got a new one. He was a the biggest Broncos fan. Vernon's smile was unforgettable and he had the best sense of humor. He enjoyed family gatherings, pow wows, concerts and hanging out with his bros. Vernon loved his music, heavy metal or rock and roll. Some of the bands include Metallica, White Snake, Sammy Haggard, Limp Biscuit, Nirvana, The Beasty Boys, Blondie, Kiss, Cheap Trick, Queen, New Low, Middle Class Rut, Motley Crew, Nickleback, AC/DC and Kid Rock.

Survived by sisters, Robin Manderson, Karen Manderson, Betty Friday, Margaret Williams, Rhonda Bower, Vana Eagle, Amy Friday, Mary Killsontop, Joann Valendia Friday, Carol Sanchez, Carla Jarrillio, Eutana Smith-Brening, Kendra and Sonja Smith, Shirley Lango, Dena Acebo, Tara and Valena Brown, Candida Perea, Dena Perea, Trina Ramirez; brothers, Cheyenne Durgin, Loren Durgin, Shane Durgin, Mike Durgin, Glen Jr Boy Smith, Lance and Flint Smith, Malcolm Bowers, Jay and Aaron Monroe, Everette Eagle, Charles Brown, CJ Walker, Loren Snakes Porns Bread Sak Shakespeare, Sam, Bryron, Gerald, and Marcus Friday, John Redman Sr., Deno Vigil, Vinnie Brown, Paul Dog, Gary and Moose Brown, Howard Friday; grandchildren, Dragon Fly and Many Horses WhiteBull, Trevor GrayHorse Redman, Bayleigh Ann Redman, Jayshawn Willow, Spencer and Shance Schone, Noah Harris, Johnny and Joey Friday, Darrian Oldman, Shane Skylu Moss, Verle and Jolan Killsontop, Marcello Smith, Sheandean and Aquilo Friday, Sugarbug, Derrick Williams, Jr. and Nadia Williams, Alicia Sanchez, Connie Oldman, MacKenzie Arnelle; nieces, Cheryl Whitebull, Heather Friday, Maria, Thalia, Jade Vaquera, Lazara Sanchez, Mariah and Sylvia Friday, Margaret Friday, Sherie Vigil, Camryn Williams, Katlynn Whiteplum, Barbara and Misty Hadenhamm; nephews, Dewayne Hereford, Luis "Papa" Vaquera, John and Tom Elk Redman, Myron Friday, AJ and Francis Acebo, Bob and Derrick Williams, Christopher Friday, and Aaron and William Ferris, Ivan Twobulls, Brandon Smith and Angel Smith, Trevor Moore and Jared Whitbull; aunts, Barbara Perea, Geri Monroe, Phylis Smith, Alfreda Smith, Kay Spoonhunter, Elizabeth Yellowbear, Karen, Lori, Valorie, Francene, Rosie and Mary Brown, Rosie Montoya, Evelyn Garcia, Roberta Whiteplum, Juanita Mancinas; uncles, Pedro Garcia, Tino Montoya, Ronnie Montoya, Richard Garcia, Glen Smith, Sr., Phillip Friday, Everette Eagle Sr., Herb Bower, Robert Garcia,Dawson Brown. Longtime friend Ruby Googles



Preceded in death parents, Charles and Barbara Manderson; sister, Rosanna Manderson, nephew, Michael Ray Manderson; grandparents, Ora and Cora Rosline Manderson, Samuel and Cecilia Wolfrang Friday, Ellen Rose Garcia Brown, Pedro Garcia, Newton Earon; Aunts and Uncles, Caroline Bower Friday, Mildred and Hank Warren, Eddie Friday, Myrle Durgin, Louis Perea; grandson, Xavier Friday; great grandparents, Ax and Amy (Armajo) Brown; and ceremonial grandfather, Jess Amos.

On-line condolences maybe made at TheDavisFuneralHome.com

Services under the direction of Davis Funeral Home.