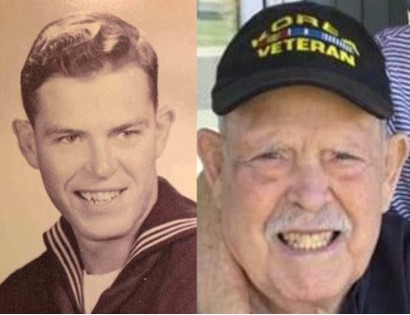 William "Bill" Marlatt
Mar 11, 1932 - Feb 18, 2022

William "Bill" Marlatt, 89, of Riverton passed away on Friday, February 18, 2022, with his wife, Alice, by his side. A memorial service will be held at 11:00 am on Friday, February 25, 2022, at Davis Funeral Home with military honors. Inurnment will follow at Mountain View Cemetery.

William Lee Marlatt was born on March 11, 1932 in Hawk Springs, WY to Edward Henry and Ethel Rae (Choate) Marlatt. His family moved to Hidden Valley in 1948 when his dad drew a homestead. He graduated from Shoshoni High School.

Bill served in the Korean War with the Untied States Navy. He entered the service in April of 1951 and served on the USS Pittsburgh and was honorably discharged in April 1955.

Bill started his farm/ranch business in 1955 at North Portal before moving to Missouri Valley in 1964.

On June 19, 1957 he married Alice Marie Dudley at the Old Methodist Church in Riverton, WY. They were married for over 64 years. Together they had three children that they raised on their ranch. and ran it together until 1997 when Bill retired at 65 years old. They moved into Riverton and enjoyed their retirement. They spent the winter in Quartzsite, AZ from 1997 until the winter of 2015-2016. They enjoyed being "snowbirds".

Bill was one of the early Chiefs of the Missouri Valley Fire Department, was a board member of the Weed and Pest Board, a lifetime member of the Wyoming Gold Prospectors Association, and lifetime member of the Veterans of Foreign Wars.

Bill enjoyed prospecting for gold most in California, Arizona, Idaho, and Wyoming. He loved watching his children and grandchildren in all their activities especially softball and baseball.

He is survived by his wife, Alice, of Riverton; son, Michael Lee Marlatt and wife, Barbara of Blackfoot, ID; his daughters, Sheryl Gay Granger and husband, Eric of Casper, WY and Teri Rae Isabell and husband, Kirk, of Bentonville, AR; six grandchildren and seven great grandchildren.

He was preceded in death by his parents, Edward and Ethel Marlatt; brother, Doug Marlatt; sister, Duene Raper; and numerous aunts and uncles.

Memorial may be made to Help for Health Hospice or Shriner's Children's Hospital in care of Davis Funeral Home, 2203 West Main Street, Riverton, WY 82501.

On-line condolences may be made at TheDavisFuneralHome.com

Services under the direction of Davis Funeral Home.