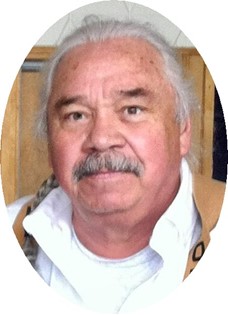 Vincent Roy Haukaas, Sr.
Jun 5, 1939 - Feb 25, 2022

Vincent Haukaas, Sr., 82, of Fort Washakie passed away on Friday, February 25, 2022, at the Central Wyoming Hospice in Casper, WY. Funeral services with military honors will be 2:00 p.m., Friday, March 4, 2022 at the Davis Funeral Home in Riverton. A viewing will precede the service from 12:00 – 2:00 p.m. at the funeral home. Burial will be at the Mountain View Cemetery in Riverton in the Veteran's Section.

Vincent Roy Haukaas was born on June 5, 1939 in Rapid City, SD to Cecil Nelson and Margaret (Jackson) Haukaas. He grew up in Rapid City, SD with his three brothers. He attended Flandreau Indian High School in Flandreau, SD, he then attended Haskell Indian Institute. He then attended training in Illinois with Xerox to become an Electronic Technician which he worked for them for 35 plus years until he retired.

Vincent served in the U. S. Army in West Germany. He was a member of the Richard Pogue Post #81.

He is a member of the Anglican Catholic Church of the Morning Star.

Vincent considered the Wind River Reservation his home. While working for Xerox he lived in Chicago, Colorado Springs, Casper, and Gillette. He then retired to the Fort Washakie area to be close to family and friends. He loved being involved in the Flag Ceremony at schools and pow wows.

On December 29, 1959 he married Marva Teran in Lander, WY. Together they had four children, one boy, Vincent Jr., and three girls, Diane, Alice, and Christine.

Vincent enjoyed going to sweats, the Pow-Wows, being a Sundancer for 30 plus years, reading, keeping up on current activities of life, watching and being knowledgeable in sports. He loved watching his grandchildren play sports and watching rodeos and horse relays with the grandkids.

He is survived by his wife of 62 plus years, Marva Haukaas; son, Vincent Haukaas Jr; daughters, Diane Garcia, Alice Haukaas, and Christine Haukaas; grandchildren, Andrew (Lauren) Medicine Horse, Nicole (Casey), Javier Hermosillo, Shawna (Jeremy) Washakie, Sheila, Stephanie, Jared (Ashley), Denise, Alicia, Unique, and Danny, Marlana, Milo, Kiyana and great grandchildren, Brando, Twinney, Tatym, Dallie O', Quincy, Mason, Lailah, Jordan, Kamillah, Lakota, Hudson, Kira, LaKaiya, Kaileena, Johnny, Noah, Tristan, Mikayla, Cash, Adrianna, and Little David.

He was preceded in death by his parents, Cecil and Margaret Haukaas; brothers, Marvin Haukaas, Ron Haukaas, and Cecil Haukaas; grandson, David Haukaas; and great grandson, Aiden Eagle Road.

On-line condolences may be made at Davis Funeral Home.

Services under the direction of Davis Funeral Home.