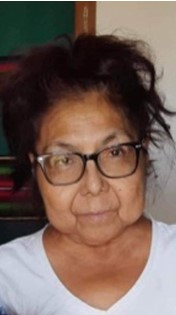 Carol Norse
Feb 14, 1961 - Feb 27, 2022
Funeral services for Carol Elizabeth Norse, 60, will be held at 10:00 a.m., Friday, March 4, 2022 at St. Stephens Catholic Church. Interment will follow at the Arapaho Catholic Cemetery. A Rosary will be recited at 7:00 p.m., Thursday, March 3, 2022 at Davis Funeral Home.

Ms. Norse passed away on Sunday, February 27, 2022 at SageWest Hospital in Riverton, Wyoming.

Carol was born on February 14, 1961, daughter of Edwin M. and Julia (Brown) Norse in Riverton, Wyoming. She graduated from Riverton High School and attended Central Wyoming College. She lived her entire life on the Wind River Reservation.

Carol was baptized in the Catholic Faith but also practiced the Traditional Navie American Ways. She was a member of the Native American Church and participated in other ceremonies.

In her younger years, Carol enjoyed attending and traveling to Pow Wow's and dancing. She had a talent with her beadwork that was unique and of her own making, it was beautiful. She loved reading and had a collection of books as a hobby and for leisure. She enjoyed watching her favorite TV shows and the cooking programs. She did like to gamble. Above all she loved her time spent with her grandkids. She was a remarkable mother figure and grandma "Mema". She always enjoyed visiting with relatives and tell her stories.

She is survived by her sons, Wayne Norse, Jr. (Bub), Collins LittleWhiteman (Sony), Leo Headley III, Clayton G. Wallowingbull, Sr., Sterling Spoonhunter, Devin Wallowingbull, Vincent Underwood, III, Ambrose , Tristen, Aaron, Brandson, Art, Isaiah Underwood, Clayton Wallowingbull, Jr.; daughters, Devonna Wallowingbull, Amaya and Kaydence Lonebear, Brittany K. Spoonhunter, Susan, Whitney, Rosie Shine Headley, Arvilla Moon (Arvy), LaNiecho and Lazhona Norse; brothers, Wayne Norse, Sr., Dominic Norse, Matthew Norse, Leo Headley, Stephen Headley, Forrest Headley, Wallace Oldman, Sr.; sisters, June Norse, Katherine Underwood, Matilda C'Hair, Rose C'Hair, Julie Mae C'Hair, Mary Ann Duran, Chalice Duran, Leta Cesspooch, Liz Willow, Lorraine Yellowbear, Kay Yellowbear; and the families of Norse, Brown, Black, Yellowbear, C'Hair, Antelope, FightingBear, Oldman and Tyler.

She was preceded in death by her parents, Edwin and Julia Norse; sister, Lori Spoonhunter; daughter, Ashley Norse; nephew, Alfred W.B. Spoonhunter (Bliss); brother, David Brown; nephew, Cyro Littlebird.

On-line condolences may be made at TheDavisFuneralHome.com.

Services under the direction of Davis Funeral Home.