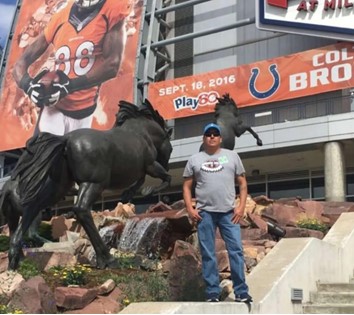 Robert "Bob" Coulston
Sep 19, 1969 - Mar 14, 2022
Robert "Bob" Coulston, 52, of Ethete Wyoming died Monday,March 14, 2022 in Lander, Wyoming. A wake will be held Thursday, March 17, 2022 starting at 7:00 pm at Iris Coulston's residence, #7 Thunder Lane, Ethete, Wyoming. A funeral will be held at 10:00 am, Friday, March 18, 2022, also at the Coulston residence. Internment will follow at Armour cemetery.



Bob was born on September 19,1969 to the late James "JC" Coulston and Barbara Jean Armour in Lander, Wyoming. He grew up in Ethete, and attended school at Wyoming Indian High School. Bob participated and danced in traditional Sundance ceremonies. He worked as a firefighter, CDL truck driver, carpenter, and drove transportation for the tribes, driving Dialysis patients, where he acquired a CNA license.



Robert loved the outdoors, and loved to hunt, horn hunt, go fishing. ice fishing, and camping. He also loved to take his metal detector out and search for hidden treasures. He loved to work in his garage, and work on his vehicles. Robert was a well-known, respected pool player as well. He loved to spend time with family and terrorize. He will always be remembered for the kind, big-hearted man he was.



He is survived by his sons, Dustin "DJ" Coulston and Justin "JP" Coulston; daughters, JaeNeece Coulston and Kylee Coulston; grandchildren, Jeshua Coulston, Jestin Coulston, Jesslynn Coulston; and Julien Wells; brothers Jimmy Coulston and Myron Gwin; sisters; Celeste Coulston, Iris Coulston, Krisi Coulston, Challis Coulston, Jennifer Addison: Niecesand Nephews; Pretty Flower Tindall, Cass Tindall, Josh Tindall, Candice Tindall, Shanessa Ute, and RickThunder.



He is preceded in death by his parents, JC Coulston and Barbara Armour; children Aaron Panzetanga and Whitley Hill and niece Keisha Thunder.

On-line condolences may be made at TheDavisFuneralHome.com

Services under the direction of Davis Funeral Home.