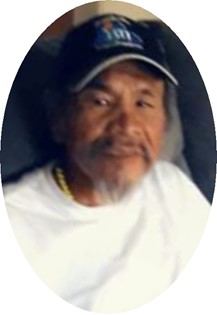 Francis "Frenchie" Warren
Aug 25, 1957 - Apr 27, 2022
Francis "Frenchie" Warren, 64, of Riverton passed away at St. Vincent's Healthcare in Billings on Wednesday, April 27, 2022. A rosary will be recited on Monday, May 2, 2022, at 7:00 pm at the Heritage Center at the Riverton Fairgrounds. A wake will follow at the same location. A funeral service will be held at 10:00 am on Tuesday, May 3, 2022, at St. Stephen's Catholic Church. Burial will follow at the Arapaho Catholic Cemetery.

Francis William Warren was born on August 25, 1957 in Riverton, WY to Phillip F. Warren Sr. and Mary F. (Antelope) Warren. He grew up in the St. Stephen's area and attended school there. He lived his entire life on the Wind River Reservation. When he was a child his uncle Buck Trumbull gave him the nick name "Sack I Indian" later in life he went by the nick name "Frenchie".

Francis was baptized into the Catholic faith. He also practiced the Native American Ways. He was a Sundancer and was mentored by his Grandfather, Burton Hutchison, Sr.

He worked in the construction industry and also in the seismography field.

Frenchie loved to be around his family, especially his children and grandchildren. He loved to make people laugh and brought joy to many. He walked everywhere and enjoyed walking and seeing his surroundings. As a young man he enjoyed playing horseshoes.

He is survived by his son, Matthew Warren of Monte Vista, CO; step-son, James Molash of Monte Vista, CO; daughter, Cecilia Warren of Riverton; step-daughters Alicia Moore of Riverton, and Aleta Molash of Monte Vista, CO; brother, Phillip S. Warren, Jr. of Riverton, WY; sisters, Catherine "June" SittingEagle of Cheyenne, WY and Agnes Warren of Seattle, WA; and numerous grandchildren, nieces and nephews.

He was preceded in death by his parents, Phillip Warren, Sr. and Mary Antelope-Warren; brothers, Herman J. Warren and Benjamin G. Warren; sisters, Mary L. Warren-Headly and Brenda K. Warren-Gould; and a number of nieces and nephews.

On-line condolences may be made at TheDavisFuneralHome.com

Services under the direction of Davis Funeral Home and Crematory.