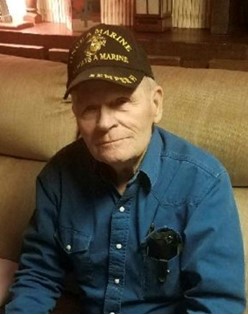 Edward "Ed" Karl Hikade
Oct 4, 1957 - Apr 26, 2022

Edward Karl Hikade age 83 of Riverton, WY, passed awayTuesday, April 26, 2022 peacefully at the home of his daughter, Dorraine in Casper, WY. He was surrounded by his daughters, grandchildren, and great grands.

A memorial service will be held at Cornerstone Community Church in Riverton 10:00 a.m., Friday, May 13, 2022 with military honors, a reception to follow. The ashes of both Edward and Sharon will be spread on South Pass where many happy memories were made camping together and with family and friends.

Ed was born March 1, 1939, in Milwaukee, Wis. to Theodore and Lorena (Rates) Hikade, the eldest of four sons. On Oct 14, 1957, Ed enlisted in the U.S. Marine Corp. After training at Camp Pendleton, CA he was transferred to the U.S. Naval Station in Kodiak, Alaska. It was here that he earned citations in marksmanship. Ed received an honorable discharge on Nov. 25,1963. On May 7, 1960, while serving his country, Ed married the love of his life, Sharon Ellen Knoll in Wauwatosa, Wis. This began their legacy. From this union two daughters were born: Cheryl Lynn (Hikade) Petek and Dorraine Marie (Hikade-Miller) Whelan.

Ed did not want to be a desk jockey, so he started a career driving a mail truck, from there he moved to driving truck for the Electric Co in Wis. After moving his family to Wyoming in 1974, Ed advanced to driving 18 wheelers. He hauled wood chips from Dubois, houses for Style Homes, numerous other driving positions were held, and he ended his career driving a semi for BTI, retiring on 4/2/2001.

Ed was the fixer in the family. There was nothing that he couldn't take apart and fix. He enjoyed cross country skiing, tinkering in his garage, reading, photography, camping, gun collecting and traveling throughout the western U.S. with his wife and family. Ed was an amazing tour guide and could be found stopping at every museum between home and destination. Ed was a man of very few words and enjoyed the quiet or as he called it "contemplating."

Ed was very involved in his church, Cornerstone Community Church. Every Sunday he could be found making coffee, folding bulletins, greeting parishioners, or giving the pastors a "Life or funny quote." He was also a huge part of the Operation Christmas Child Project with his wife and daughter, Dorraine.

Ed and Sherry were married 61 years and will be deeply missed by those that knew and loved them.

Ed is survived by his daughters; Cheryl Petek, Dorraine (Miller) Whelan; Grandchildren: John Miller (Natalie), Jennifer (Miller) Cohrs, Andy Petek (Tess), Cory Petek, Toby Petek; Great Granchildren, Landrie and Canaan Miller; three brothers: Robert, Theodore III, and James Hikade all of Wis.; cousins; nieces; nephews; church family and friends.

Edward was preceded in death by his parents; wife, Sharon Hikade (Knoll); three sisters-in-law; brother-in-law and one nephew.

In lieu of flowers, donations can be made to the Marine Corp Toys for Tots or Samaritan's Purse Operation Christmas Child.

Local arrangements are under the direction of the Davis Funeral Home.