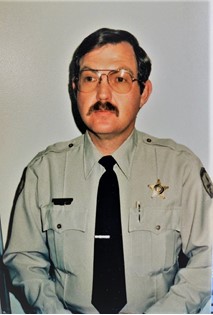 Fredric Webber
Nov 24, 1946 - Aug 21, 2021
Fredric Wilson Webber, 74, of Riverton, passed away at Sage West Healthcare in Riverton, Wyoming, on August 21, 2021. A Celebration of Life will be held at 10:00 am on Saturday, June 18, 2022, at Davis Funeral Home. A police escort from Davis Funeral home to the Church of Christ will follow the service.

Fredric Wilson Webber was born on November 24, 1946, in Sylva, NC, to Fredric Lamonte Webber and Madge Allison (Wilson) Webber. The family lived in Sylva, NC, for a short period. At a very young age, his family moved west briefly to Denver, then to his lifetime home of Riverton. Fred attended Riverton High school. He then attended classes at Central Wyoming College for law enforcement.

While in high school, he met the love of his life, Charlotte Elaine Higgs. On August 19, 1967, they were married in Riverton at the United Methodist Church. They made their home in Riverton, and throughout the years, God blessed them with four children.

Fred worked at many different jobs. His passion was for law enforcement. His career began working for the Riverton Police Dept. Then, he worked at Lucky Mac for a short period as a heavy equipment operator, where he became a Foreman. Later he began working for the Fremont County Sheriff's department. He worked for the Fremont County Sheriffs' office for 27 years holding positions as Dispatcher, Road Deputy, Investigator and Field Training Officer. His last duty was court security in the Lander and Riverton Court system until he retired, on December 3, 2011. Fred retired with 33 years dedicated to law enforcement.

Fred loved people. He loved to watch, mentor, and visit people everywhere he went. Everyone in Fremont County knew Fred! His favorite pastime was to go to Walmart to "shop." His family knew what he was really doing. This was his excuse to get out of the house to visit people. He was so well known that he couldn't go to the next aisle without visiting with someone new.

His true love, aside from Charlotte, and his kids, was, of course, dogs! He would always go out of his way to talk to and love every dog that crossed his path. Rumor has it that when he would be working on patrol, he would pull people over so that he could love on their dogs.

Fred had many interests. He has always loved to hunt, fish, snowmobile, and camp. Many of these activities he enjoyed started at a young age. In addition, he loved to train dogs to compete in field trial competitions when he was a young man. His dog Pal won first place in many of these competitions. He loved spending time with his family. He enjoyed playing games, watching movies, and cooking his famous BBQ chicken and sourdough pancakes. It didn't matter what he did as long as he was with his family.

He is survived by his son, Terrence Fredric Webber of Riverton; daughters, Kathryn Armis Webber-Lawrence and husband, Dennis of Riverton, Tammy Allison Webber of Kenosha, WI, and Christy Elaine Webber and husband, Matt of Denver, CO; eight grandchildren and one great-grandchild.

He was preceded in death by his wife, Charlotte Elaine Higgs-Webber, his parents, Fredric and Madge Webber, and his sister, Gail Madge Martin-Johnson.

Fred wants everyone to remember he is in a better place and will greet them when they get to Heaven! And remember that he was and will always be so VERY proud of all his children and grandchildren.



Fred's celebration of life will be a Hawaiian-themed service. So come dressed in your best tasteful Hawaiian attire.

Online condolences may be made to the family at www.TheDavisFuneralHome.com.

Services under the direction of Davis Funeral Home.