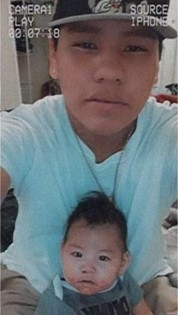 Nathan Loneman, Jr.
Dec 23, 2004 - Jun 4, 2022
Nathan Charles Loneman, Jr., 17, of Riverton passed away on Saturday, Jume 4, 2022, in South Dakota. A wake will be held on Sunday, June 12, 2022, starting at 5:00 pm at the Heritage Hall at the Fremont County Fairgrounds. A funeral service will be at 10:00 am on Monday, June 13, 2022, at the Fremont Center at the Fremont County Fairgrounds. Burial will follow at the WallowingBull Cemetery.

Nathan Charles Loneman, Jr. was born on December 23, 2004 in Lander, WY to Nathan Loneman, Sr. and Theresa Maire Antelope. He was known at "Baby Nate" and grew up in the Riverton area attending school at Riverton High School.

Nathan believed in the Traditional Native American ways and participated in the Sun Dance, was a singer and played the hand drum.

He worked at Svilars in Hudson Wyoming.

He is survived by his father, Nathan Loneman, Sr.; daughter, Lorariah Fahlene Shakespeare; brothers, Joshua Antelope, Charles Antelope, Luis Zapata, Jr., Jason Loneman, Wes Antelope, Storm Blackburn, Bishop Duran, Tyrell Duran, Ronnie Duran, Nelson Duran, and Redskye Antelope; and sisters, Bessie Antelope, Brianna Loneman, Arianna Zapata, Alexa Zapatoa, Mya Antelope, Keesha Duran, Boots Duran, Cante Jenkins, Shanice Antelope, Summer Walker, and Natasha Antelope.

He was preceded in death by his mother, Therea Marie Antelope-Zapata; grandmother, Edna Morrison; grandfather. Fredrick Antelope, Sr; brothers, Isiah Antelope and Wendell Antelope, Jr; sister, Natisa Antelope; and Wendell Antelope, Robert Antelope, Fredrick Antelope Jr.

On-line condolences may be made at TheDavisFuneralHome.com

Services under the direction of Davis Funeral Home and Crematory.