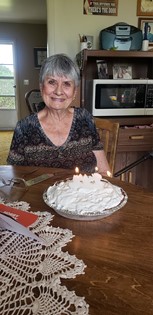 Sharon Ellen Hikade
Sep 12, 1942 - Oct 18, 2021
On October 18, 2021, Sharon Ellen "Knoll" Hikade age 79 was called home with the same grace that she lived life by. She was surrounded by her husband, daughters, and grandchildren.

Sherry was born September 12, 1942 in Milwaukee, WI to Elmer and Eleanor "Homme" Knoll. She married the love of her life, Edward Karl Hikade on May 7, 1960 in Wauwatosa, WI. This began their legacy. From this union came 2 daughters, Cheryl Lynn Petek and Dorraine Marie Miller-Whelan.

Sherry loved to knit, crochet, work with Operation Christmas Child, cross country ski, bake and spend time with her girls, grandchildren, and great grandchildren. Sherry loved the Lord and lived her life to the fullest with no regrets. She made sure the family home was always filled with laughter, love and a full cookie jar.

Sherry is preceded in death by her parents, 3 sisters-in-law and nephew.

She leaves behind her husband of 61 years, Ed Hikade: daughters, Cheryl Petek and Dorraine Miller-Whelan; grandchildren, John Miller (Natalie), Jennifer "Miller" Cohrs, Andy Petek (Tess), Cory Petek, Toby Petek; great grandchildren, Landrie Miller and Canaan Miller; brother, Marvin Know, 3 brothers-in-law and nephews.

An ice cream social will be held on October 30, 2021 at 1:30 p.m. at the Cornerstone Community Church in Riverton.

In lieu of flowers, donations can be made to Samaritan's Purse or Operation Christmas Child.