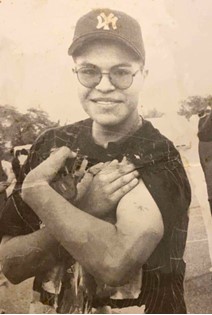 William "Billy" Topaum
Sep 27, 1977 - Aug 11, 2022
Funeral services for William, "Billy" Charles Topaum, 44, will be held at 10:00 a.m., Friday, August 19, 2022 at St. Stephen's Catholic Church. Interment will follow at the Yellowcalf Cemetery. A Rosary will be recited at 7:00 p.m., Thursday, August 18, 2022 at 167 Trosper Lane with a wake to follow. Mr. Topaum passed away on August 11, 2022 in Denver, Colorado.

William was born on September 27, 1977, son of Alfred Lee Topaum, Sr. and Catherine (O'Neal) Topaum in Lander, WY. He was raised in Ethete and attended Wyoming Indian Schools and later Flandreu Indian School in South Dakota.

Billy worked in the oil field industry and some construction throughout his life.

He enjoyed the outdoors, watching his favorite football teams the Dallas Cowboys and Oklahoma University. He also enjoyed living a healthy lifestyle and spending time with his daughter Kimberly, his family and friends.

Billy is survived by his daughter Kimberly Topaum; Brothers John Topaum, Lloyd Goggles, Justin Topaum, Neil St. Clair and Tyson Headley; Sisters Kari Topaum, Emily Vaomu, Sheri Moon; Aunts, Rhonda Headley, Lynelle Shakespeare, Deborah Starr, Janice Goggles; Uncles Darrell O'Neal Sr., Andrew Topaum, Louis Headley, Jimmy Lee Shakespeare and Grandma June O'Neal: and the families of O'Neal, Headley, Shakespeare, Topaum, and Eagleheart.



Billy is preceded in death by his Mother Catherine "Cathy" O'Neal, Father Alfred Topaum Sr.; Brothers Alfre Topaum Jr., Christopher Topaum, Kenny Topaum, Jason Moon, Neil Moon, Leon Moon; Sister Krista Topaum; Aunts, Annette O'Neal, Charlene O'Neal, Emma Chessnah; Uncles, Rudy Starr, Red Topaum, Martin Topaum, Ricky Topaum, Henry Goggles, William O'Neal, Charles O'Neal: Grandparents Emil anfd Delight O'Neal, Edward Topaum, and Mary Starr.

On-line condolences may be made at TheDavisFuneralHome.com.

Services under the direction of Davis Funeral Home, Crematory, and Monuments.