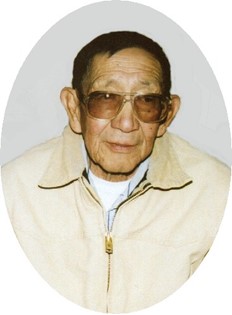 Joseph Oldman
Sep 1, 1934 - Feb 24, 2009
JOSEPH OLDMAN

Joseph Oldman of Arapahoe died Tuesday morning, February 24, 2009, at his home. He was 74 years old.

Funeral services will be conducted at 10:00 a.m. on Saturday, February 28, 2009 at St. Stephen's Catholic Church. Burial will follow at Arapaho Catholic Cemetery at St. Stephens.

A Rosary will be held at 7:00 p.m. on Friday, February 27th at Great Plains Hall, with a wake to follow at the family home, 296 Left Hand Ditch Road. A feast will be held at Great Plains Hall.

Joseph Oldman, whose Indian name is "Sits in the Sun", was born in Arapahoe on September 1, 1934 to Daniel Oldman, Sr. and Esther (Headley) Oldman.

He attended school at St. Stephen's Mission through the 11th grade, then obtained his GED. He then went to vocational schools, an ironworking school in Casper and a printing school in Thermopolis.

On January 24, 1957 he married Myrtle White Antelope in Riverton.

Mr. Oldman was a member of St. Stephen's Catholic Church, and held a strong belief in Native American religious ceremonies and the Native American Church.

Mr. Oldman was a retired member of the Northern Arapahoe Tribe Business Council, to which he was first elected in 1976, and served various terms totaling 16 years, retiring in 2002. He had been employed by Arapaho Ranch, Sho Rap Fire Fighters, worked construction with his brothers, was a truck driver for Lucky Mc Mining Co., a printer for the Thermopolis Independent Record, the Riverton Ranger and the Wind River Press, was an Indian Child Welfare Advocate and a rancher most of his life. He, along with Ken Potter, was a co-founder of the Wind River Press.

He was a member of the Arapaho Christmas Committee, NAPW Committee, Eagle Drum Group and the Entertainment Committee. He had been a member of the Wyoming Indian School Board, the St. Stephen's School Board, the Arapahoe School Board, JOM Parent Committee at Arapahoe and St. Stephen's, and served on various other committees.

The family said Mr. Oldman's hobbies were spending time with his grandchildren and watching them play sports. He enjoyed going to pow-wows, hunting, landscaping, and visiting with friends and relatives. In his younger days, he played basketball, softball and baseball.

Among his survivors are his wife Myrtle Oldman; children Ron Oldman and his companion Carmen, Joseph Oldman and his wife Joanna, Lucy Harris and her husband Vernon, Melvin Oldman and his companion Avinita, Susie Villa and her husband Don, Ray Dewey, Lydell Whiteplume, Robin Russo, Dale and Dana Eagle and Donelle Villa; 28 grandchildren; 16 great grandchildren; sister Nora Pauline Oldman and her companion William J. C'Hair; brothers Dan, Stuart and John Oldman; numerous adopted children, grandchildren, great grandchildren, nieces and nephews; special friends Charles Little Oldman, Joe Little Coyote, Hugh Club Foote, Andy Baldwin, Charles Yellowfox, Stanley Spoonhunter; and adopted brother Mark White.

He was preceded in death by his parents Dan and Esther Oldman; brothers Dewey, James, Benjamin and Peter Paul Oldman; sister Phyllis Gardner; two sets of twin siblings, Alvena and Melvina, and Marie and Maria; children Gregory, Odetta and Marlene Oldman, Charlo Yellowfox, and D. Gerry Moss.

On-line obituaries are available and condolences for the family may be made at: thedavisfuneralhome.com

Services are under the direction of the Davis Funeral Home of Riverton.