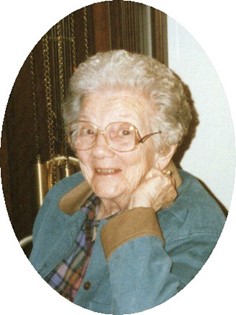 Winifred McDonald
Jan 30, 1910 - May 26, 2009
Funeral services for Winifred McDonald of Riverton will be at 11 a.m. Monday, June 1, 2009, at the Davis Funeral Home of Riverton. Pastor Dale Adams of First Baptist Church will officiate.

Mrs. McDonald died at Westward Heights Care Center in Lander on Tuesday, May 26, 2009. She was 99 years old.

Winifred Hummel was born in New Ulm, Minn., on Jan. 30, 1910, the daughter of August and Anna (Dietz) Hummel. She was graduated from New Ulm High School in 1928 and went on to being graduated from Miss Wood's Kindergarten and Primary Training School in Minneapolis, Minn.

She taught first grade in Waterville, Minn., for two years then taught first grade in Worland for five years.

She married Walt McDonald in the parsonage of Riverton's Methodist Church on Federal Blvd. on May 24, 1937.

Mr. McDonald with his brother Roy had purchased Riverton Motor Co. in April of that year.

Mrs. McDonald continued to teach until January of 1938 when she moved from that career teaching the second grade at the old Jefferson School.

For a short time, she drove school bus then worked at the original Kline's Store, selling classic women's clothing.

She tutored seven special education children for one school year with classes at the Methodist Church because special education was not part of the public school curriculum.

During World War II, Mrs. McDonald started driving truck with her husband and delivering gas and cases of oil, primarily to the oil rigs in the Dubois area, to farmers, and crossing the mountain to road construction crews.

In 1965, she returned to the profession of education, starting the local Head Start program.

She completed her working career as educational director for School District 25, requiring her to travel and be away from home many nights. Mr. McDonald had retired and she joined him in retirement in 1975.

Survivors include son, Steve McDonald and his wife Kathy of Kuwait, along with their children, Laurie McDonald of Salt Lake City, Utah, Jeff McDonald and his wife Annisa of Laramie and their child Karley; son, Mike McDonald of Riverton and his son Justin McDonald of Laramie.

She was preceded in death by her parents; her husband, Walt McDonald on May 4, 2001; three brothers, and two sisters.

Memorials may be made to a charity of the donor's choice.

On-line obituaries are available and condolences for the family may be made at: thedavisfuneralhome.com.

Services are under the direction of the Davis Funeral Home of Riverton.