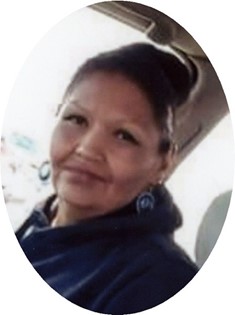 Agnes "Aggie" Bell-Addison
Feb 12, 1978 - Dec 31, 2022
Agnes "Aggie" Bell-Addison, 44, of Riverton passed away in Riverton on Saturday, December 31, 2022. A rosary and wake will be held on Sunday, January 8, 2023, at the Heritage Center, Riverton Fair Grounds, starting at 6:30 p.m. The funeral service will be held at 2:00 p.m. on Monday, January 9, 2023, at St. Stephen's Catholic Church with burial to follow at the Arapaho Catholic Cemetery.
Agnes Marie Bell was born on February 12, 1978 in Riverton, WY to Annarita Bell and Jimmy Blackburn. She grew up on the Wind River Reservation and attended Arapaho and St Stephen's schools.
Aggie was baptized into the Catholic Church and also practiced the Native American Beliefs. She attended Sun Dance and loved going to sweats.
She worked for Pertech Industries and Cowboy Catering Company. While working for Cowboy Catering, she traveled all of the states. She lived in Truth of Consequences, New Mexico for 2 ½ years before returning to Wyoming where she remained.
While in Truth of Consequences, New Mexico she married Allen J. Addison on May 10, 2010. He preceded her in death.
Aggie played volleyball, basketball, ran cross country, and played softball. When she was in school she enjoyed math and social studies. She enjoyed music of all types, Country, R&B, HipHop, Rap and Rock. Her favorite artist was Mattalica, Guns 7 Roses, Ashanti, Bone Thug, 2Pac, Too Short, Juvnile, Fleetwood Mac, AC/DC and many more. She enjoyed being on social media and carried the name, "Kills Alone". She loved the colors burgundy, black, blue, and silver. She loved beading, cooking, terrorizing, joking, going to the casino, and above all spending time with her grandbabies.
She is survived by her daughters, Janelle (Nellz) Bell, Alissa (BigMan) Yellowrobe, Asena Mafua, Shanea Bell, and Autumn Scott; sons, William Yellowrobe, Jr., Tyrell Bell, and Anthony Scott; grandchildren, Kylie Bell, Kaylena Bell-Oldman, Alissiana Yellowrobe, and Kai-Lo Bell; brothers, Isacc White Bull, Brent Bearing, Tony Willow, Duane Willow, Darren Willow, Ferland Willow, and Ricky Blacburn and family; sisters, Bernadette Bearing and family, Loucinda Bearing and girls, Ginger White Bull and family, Myra Brown and family, Matze Blackburn, Mona Blackburn, Sherrie Blackburn, Geraldine Blackburn, Clina and Mel Longtime, Nora Willow, Yvondra Willow and family, Brenda Hubbard and family, Lawrencetta Bell, Amy Lawson, Irene Lawson, and numerous nieces and nephews.
She was preceded in death by her parents, Annarita Bell and Jimmy Blackburn; husband, Allen J. Addison; mom, Florence Bell; dad, Anthony Bell; grandparents, Albert and Clina Lone Bear/Willow; brothers, Benjamin Sounding Sides, Sr., Edward Sounding Side, Robert Willow, Benson Bearing, Jr., Brian Bearing, Brian Willow; aunts, Alberta Bell and Francine Bell; uncles, Edward Willow, Leo Willow, Jim Bell, Doyle Bell, and Matthew "Smoky" Bell; and nephews, Edward J Sounding Sides, Jonathan Willow, and Dale Brady, III; great grandma, Agnes Posey; and great grandpa, Isaac White Bull.
Please forgive us if we left any one out.
On-line condolences may be made at TheDavisFuneralHome.com
Services under the direction of Davis Funeral Home, Crematory, and Monuments.