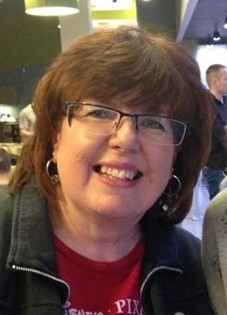 Rebecca Caroline Ransom
Nov 6, 1961 - Feb 8, 2023
Rebecca Caroline Ransom Obituary
Rebecca Caroline Ransom of Parker, Colorado, passed to the loving arms of her Lord and Savior on February 8, 2023 in Riverton, Wyoming.
A joint Celebration of Life will be held for Becky and her Dad, Wayne Ransom at 10:00 am on July 29, 2023 at the First Baptist Church in Riverton, Wy.
Rebecca Caroline Ransom was born to Wayne & Sandra Ransom on November 6, 1961 at Jackson, Wyoming. She lived in Jackson with her parents until the family moved to Pinedale where her Dad had a job with the Forest Service. Her brother Shane LeRoy joined the family December 11, 1963. Shortly after his birth they moved to "Windy" Olsen's ranch outside of Big Piney. Becky loved ranch life especially the cows. There weren't any fences around the trailer where they lived and the cows were often in her front yard, Her Mom remembers the time she couldn't find Becky & was frantic because there was a river running close by. Upon calling her Becky answered amongst a small bunch of cows. Calling Becky to come to her, Becky came out petting the cows who calmly parted, letting her come to her mother. Becky told her mom they wouldn't hurt her; they were her friends. She had several experiences on the ranch. In December of 1964 the family moved to Riverton in a blizzard over South Pass. A sister, Shannon LaNora joined the family in 1968.
Becky was a shy child around others not family. One time she wanted to go next door to play with the neighborhood girls & their Barbie dolls. When her mom asked one of the other moms how she was doing, she was told Becky wouldn't play but would just sit on the steps holding her Barbie until it was time to go home.
Becky attended Lincoln Elementary School, Riverton Middle School & Riverton High School. When it was time to choose classes in her freshman class her parents insisted, she take Speech. Becky didn't want to as she was afraid to get up in front of people to talk.
Taking that speech class was the best thing that could have happened to her. She lost her fear of talking & was often kidded that she never stopped talking. Her Speech teacher, Lois Sackman, was an excellent teacher & encouraged all her students. Becky loved music & joined choir & was in several musicals that the high school performed for the community. She loved singing and while in college she recorded a cassette of songs she had sang in her local church in Amarillo for her a Christmas gift for her family.
She graduated with the class of 1980, 2 months before her second brother, Allan Wayne joined the family. Becky decided to forgo college for a year to spend time with her new brother.
She attended Baptist Bible College in Springfield, Missouri graduating with degree in Christian Education.
Becky had many jobs during high school & after college. Becky worked for Bi Rite Drug during her high school years & enjoyed that time immensely.
After graduating from college, she was hired to teach 6th grade at a Christian School in Amarillo, Texas. During that time, she realized that the old Route 66 ran right by the school. Becky was always interested in history & wrote a booklet, "Cruisin' Route 66", about this amazing road. She took her students on field trips of the old Route 66 that ran thru their part of Texas. She was elected president of the Old Route 66 Association of Texas.
After her teaching experience she was the HR Director for the Big Texan Steak Ranch in Amarillo. During that time, she met many celebrities including John Lassiter director of Pixar films. She ultimately was a consultant for the movie "Cars" because of her knowledge of Route 66. Her name is even mentioned in the credits. Becky went to the premier of the movie & met some of the voice over actors, like Larry the Cable Guy as "Mater", Mike Wallace as the "Sheriff". and others. She had a phenomenal collection of "Cars" memorabilia. She also attended the opening of the "Cars" Land theme Park in Disneyland.
After many years in Amarillo, she made the move to Parker, Colorado to be closer to family. While there Becky found her dream job! She always loved dolls and acquiring a position at American Girls Dolls was very satisfying. She loved introducing young girls to dolls of different eras & their stories. She also had a wonderful collection of the American Dolls along with their clothes & books.
Becky was preceded in death by her father Wayne Ransom, Grandparents Roy & Ilene Ransom, Grandparents "Speed" & Caroline Fast, and Uncle Larry Fast.
Becky is survived by mother Sandra Ransom of Riverton, Brother Shane (Angie) of Thornton Col., sister Shannon (Michael/Dane) Gwyn, Colorado Springs, Colo, and brother Allan of Parker, Colo. Nieces Kimberley (Robert) Padilla of Colorado Springs, Col, Jennifer (Cesar) Angulo of Colorado Springs, Colo, Lindsay Ransom of Thornton, Col., nephew Alric (Amber) Schmidt of North Carolina. Gr. Nieces, Irissa Padilla, Delilah Angulo, Avery Schmidt, Kirra Howell. Gr. Nephews, Ryan Angulo, Ashton Angulo, Zarek Padilla & Kaiden Howell & her very, very special dog, Darla, plus many cousins, aunts & uncles.
Becky was always a very caring & loving person, putting others first. She is going to be so missed by all who knew her.
The family request in lieu of flowers, donations be made to First Baptist Church Parsonage Fund in care of Davis Funeral Home, 2203 West Main Street, Riverton, WY 82501.
On-line condolence may be made at TheDavisFuneralHome.com.
Services under the direction of Davis Funeral Home, Crematory, and Monuments.