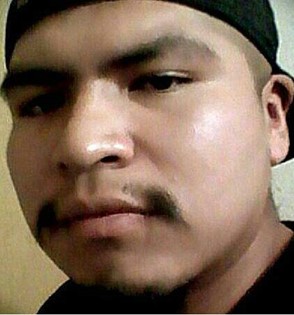 Wilford "Sonny" Hill, III
Sep 5, 1992 - Apr 17, 2023
Wilford 'Sonny" Hill, III, 30, of Ethete passed away on April 17, 2023. A rosary will be recited at 7:00 pm on Sunday, April 23, 2023, at 1538 Elmwood, Beaver Creek Housing, the wake will follow. A funeral service will be at 10:00 am on Monday, April 24, 2023, at St. Stephen's Catholic Church with burial to follow at Arapaho Catholic Cemetery.
Wilford Wilson Hill, III was born on September 5, 1992 in Lander, Wyoming to Wilford Wilson Hill Jr. and Angelica Renae (YellowBear) Hill. He was a lifelong resident of the Wind River Reservation. He graduated from Fort Washakie Charter High School in 2011.
Sonny was baptized into the Catholic faith and was also a member of the Native American Church.
He was a laborer that worked various jobs in Fremont and Natrona Counties.
Sonny loved spending time with family, playing pool, playing guitar, daily nature walks, big chess player, professional gamer, huge music lover, card player, master of electronics, was a big jokester, and was proud of his IQ level.
He is survived by his son, Baby Sonny; and siblings, Corey Hill, Shannon Hill, Cordell Washington, Charlie Washington, Leandra Washington, Mary Headly, Haily Headly, Wesley Antelope, Ashley YellowBear, Kristen Antelope, Shantell Antelope, Alyssa KillCrease, Summer KillCrease, Nathaniel Antelope, Alicia LaJeunesse, Makailah Pebeashy,and Abigail LaJeunesse.
He was preceded in death by his parents, Wilford Wilson Hill, Jr. and Angelia Renea YellowBear-Hill; brother, Taylor YellowBear; paternal relatives, Cheryl G. Hill, Wilford C. Hill, Sr., Regina Great Hill, Stanford Hill, Emily Rose Blackburn and Andrew John YellowBear; maternal relatives, Mary E. Bear, Calvin YellowBear, Sr., Phillip Bear, Alta Tyler Brown, Andrew Brown, Sr., Chief LoneBear and Lon LoneBear, plus 4 wives, Chester YellowBear, Mable Runs Down Hill, Mary Rose YellowBear-SunRhodes, Viloet YellowBear-Duran, Charlene "Macy" YellowBear, Calvin YellowBear, Jr., Ivan Bear, Vincent YellowBear, Sr., and extended family members.
On-line condolences may be made at TheDavisFuneralHome.com
Services under the direction of Davis Funeral Home, Crematory, and Monuments.