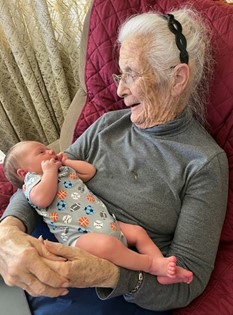 Velma Pingetzer
Mar 31, 1934 - May 20, 2023
Velma Pingetzer passed away on Saturday May 20, 2023, at Wind River Rehabilitation Center in Riverton, Wyoming. A funeral service will be held at 10:00 a.m. on Saturday, May 27, 2023, at Davis Funeral Home with burial to follow at Mountain View Cemetery. Visitation will be held from 6:00 p.m. until 8:00 p.m., Friday, May 26, 2023 at Davis Funeral Home.
Velma Myrtle Leonhardt was born to Carl and Dala (March) Leonhardt on March 31, 1934, at the home of her grandparents, Joseph and Laura March on East Overland in Scottsbluff, NE. She was the oldest of four children.
She lived at Bridgeport, NE until she was about four years old when her parents moved the family to an 80-acre farm north of Lost Well Butte near Riverton, WY. There was a small house at the west end of the property. Carl built a three-bedroom log home in the middle of the farm.
Velma graduated from high school in 1951 from Pavillion High School, completing her schooling in 11 years. She then went on to one year of college in Scottsbluff, NE. In 1952 she went to work at First National Bank in Riverton. She worked there until she married George Pingetzer on January 9, 1958. They built their home on the lower end of Missouri Valley.
After about seven years of marriage, George and Velma were able to adopt a beautiful 22-month-old little boy, Richard, and about a year later Robert was born. Together with their sons, they farmed and ranched combining many acres of rangeland and seven farms to form Six Iron Ranch. Velma was known for being a hard worker, and was well liked for her kind, gentle manner. She was chosen Agricultural Woman of the Year in 1986 and was a long-time member of the Cowbelle's.
Velma is survived by her sons, Richard (Kay) and Robert (Paige) Pingetzer, nine grandchildren, 16 great grandchildren with one on the way, and her brother, Laurin (Cindy) Leonhardt.
She was preceded in death by her husband George Pingetzer, parents, Carl and Dala Leonhardt, stepmother, Myrtle Leonhardt, brother, Arthur Leonhardt, sister JoElla Pinney, and great grandson, Zade Pingetzer.
On-line condolences may be made at TheDavisFuneralHome.com
Services under the direction of Davis Funeral Home, Crematory, and Monuments.