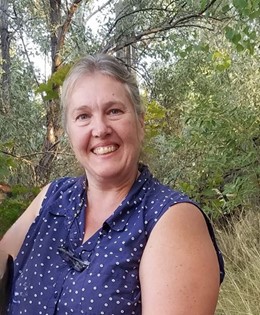 Sarah Lynn Kalbach
Oct 24, 1963 - Apr 4, 2023
Sarah Kalbach, 59, passed away on Tuesday, April 4, 2023, at Sage West Hospital – Lander, surrounded by her children and her dog, Lizzy. A Celebration of Life for Sarah and Keith will be held at 2:00 pm on Saturday, June 10, 2023, at Davis Funeral Home. A Barbecue will follow at Sunset Park at 4:00 pm.
Sarah Lynn Watson was born on October 24, 1963 in Macon County, Missouri to Winfred Carl and Okayma Ann (Whitaking) Watson. After graduating early from high school, she pursued a career as a veterinary technician. After four years working as a veterinary technician, she decided that she would be better suited working with people. Sarah later became a paramedic.
Early in her career as a paramedic she met her husband, Darrell Keith Kalbach, while he was working on a Lifeflight Helicopter at Arrowvac. Three months later, May 5, 1989, they were married. They then moved to Oklahoma to raise their growing family of six. She worked for 24 years in Oklahoma City, Oklahoma.
In the early 2000's her and her family moved to Riverton in Central Wyoming and purchased the Tomahawk Motor Lodge. They ran it as a family business for 15 years before selling in 2016. While Sarah was an innkeeper, she was also a city council woman, CCD teacher, and earned her Masters in Political Science.
Sarah was a devoted Catholic and loving mother, not only to her children, but any children she could take in. She was a woman whose door was always open to those who needed it. "Mom" was a universal term for Sarah, it didn't matter if it was her kids, her kids' friends, or a kid that had just walked through the door. She was Mom, she was ready with a hot meal for whoever needed it and encouraging words.
She is survived by her sons, Kelby Kalbach, Devery Kalbach, and Tanner Kalbach; daughter, Annmarie Kalbach; and grandchildren.
She was preceded in death by her husband, Darrell Keith Kalbach; and her parents, Winfred and Okayma Watson.
On-line condolences may be made at TheDavisFuneralHome.com
Services under the direction of Davis Funeral Home, Crematory, and Monuments.