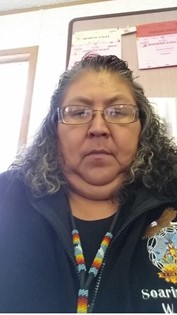 Michelle Redcap
Nov 30, 1961 - Jun 24, 2023
Funeral services for Michelle Kay Redcap, 61, will be held at 10:00 a.m., Monday, July 3, 2023 at Blue Sky Hall in Ethete, Wyoming. Interment will follow at Friday Cemetery. A Wake will be held at 204 Yellowcalf Road beginning at 5:00 p.m.
Mrs. Redcap passed away on Saturday, June 24, 2023 at her home in Whiterocks, Utah.
Michelle was born on November 30, 1961, daughter of Shannon M. and Irene M. (Friday) Brown in Lander, Wyoming. She attended Mill Creek School from K-8th grade and then Wyoming Indian High School where she graduated. She lived most of her life on the Wind River Indian Reservation until 2016 when she moved to the U&O Reservation.
On April 11, 1989, Michelle married Robert Redcap in Fort Washakie, Wyoming. She was a member of the Episcopal Church.
Michelle worked at Napros, Arapaho Tribe Daycare, Wyoming Indian Middle School as a tutor and the Norther Arapaho Cancer Resource Center as well as Northern Arapaho Housing as a secretary, Wind River Casino as a maintenance secretary and the Ute Tribal Justice Center.
She enjoyed spending time with her grandkids, family and friends and going to the casino with her husband, Bob. She also enjoyed outdoor recreation such as hunting, fishing and camping. She was a strong believer in her Native Ceremonies, Michelle was well known for her humor, terrorizing, and infectious laugh. She was also known for her good frybread.
Survivors include her husband, Robert Redcap of WhiteRocks, Utah; father, Shannon Murray Brown; daughters, Bobbi and Robert Lee Redcap, Kelli Redcap; step-daughter, Trena and Roger R. Redcap; step-son, Nathan Redcap; brothers, Dale "Bo" and Perc Brown, Jay Brown, Shawn and Sacheen Brown; sister, Marilyn and Ryan Gambler; Aunts, Darlene Bell, Eleanor Brown, Reva Doctor, Linda Hurtado; uncles, Hubert Friday, Dale Brown, Celerence Brown; sister in-law, Donna Redcap; brothers in-law, Melvin Redcap, Ambie RedFoot and sisters. numerous grandchildren. The families of, Friday, Trosper, Sage, Thunder, Brown, Trumbull and Lone bear.
She was preceded in death by her daughter, Shawna Marie Groesbeck; mother, Irene May Friday; maternal grandparents, Chester and Effie Friday; paternal grandparents, George and Nora Brown; Step-son, Bobbi Redcap – Uncsam; Uncles, Wayne and Vicki Friday, Chester and Roseen Friday; Aunts, Estella and Albert Dodge, Elaine and Frank Hill, Corriane and Victor Revere, Marilyn Brown, Mervin Brown, Wayland Brown, Bradford Brown, Alvin Brown, Sr.
On-line condolences may be made at TheDavisFuneralHome.com
Services are under the direction of Davis Funeral Home, Crematory, and Monuments