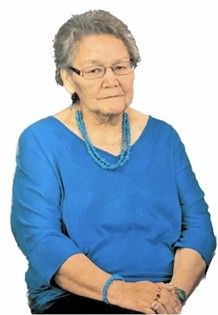 Karen J. Spoonhunter-Brown
Dec 29, 1945 - Jun 29, 2023
On December 29, 1945, the Creator sent a kind, prayerful, compassionate and ever-loving servant to us in Karen J. Spoonhunter-Brown, R.N. She was given the Arapaho name Woxo'uwoonesei, which translates to Medicine Woman. She was born in Ft. Washakie, WY, the loving daughter of William and Elma Spoonhunter. 77 and one half years later, on June 29, 2023, Karen stepped into the eternal light, to sit next to Jesus, eager to embrace all the loved ones who went on before her. Her life here on earth was well lived and she leaves behind a story intricately woven with love, faith, and family. This tapestry lives on in the hearts and deeds of all who loved Karen while she was here on earth.
A prayer service will be offered at her home at #4 Northern Arapaho Rd. in Arapahoe, WY at dusk on Sunday, July 2, 2023. She will remain at her home until Monday evening. A rosary will be prayed at 7:00 pm on Monday, July 3rd at St. Stephens Mission in St. Stephens, WY. Karen will remain in the church for an all night wake. Funeral services will be at 10:00 am on July 4th, 2023 at St. Stephens Mission. Funeral Mass will be celebrated by Fr. Louie Shea and Fr. Andrew Duncan. Her family will then carry her to the Arapaho Catholic Cemetery and return her to the earth. Following her burial, there will be a gathering at Great Plains Hall to share a meal and allow her family to thank those who have supported them during this sacred time.
From an early age, Karen understood the value of learning and always took her education very seriously. She started her educational journey as an elementary student at Arapahoe School. From there, she attended the Chilocco Indian Boarding School in Newkirk, OK where, through daunting obstacles and unimaginable burdens, she persevered and graduated Valedictorian of the class of 1964. Her commitment to education has been there since the beginning stages of her life.
Karen was also committed to family. She became a mother as a young adult and has been dedicated to her children ever since. Niibei, Mary, Tyler, Alicia, Roy, Luke, Vincent, Theresa, Elma, Gary, Howard, William, Melissa, Christyl, Bryan, Celeste, Keith, Mike, and Charlie were honored and blessed to have Karen as their mother and to receive the loving grace and guidance she provided them throughout her life. Karen also considered herself very blessed to raise her grandson Tyvan and granddaughter SathTa in her home. She was a daughter, sister, wife, grandmother, great-grandmother and auntie, and always endeavored to show and be love to all her relatives no matter the circumstance. Her passion for her family has been present from the very beginning.
Karen was also passionate about being a nurse. As a young child, anytime she was able to choose a toy to play with, she would immediately gravitate towards the medical kits with toy stethoscopes and medical supplies. She would use those play things to provide care to her pretend patients, always making sure they were healed and felt better before going on to the next patient. That passion for caring manifested in many ways throughout her life. And while she had to defer it for a few decades, Karen never gave up on her dream of being a medical professional to provide comfort and care to others. After having 15 children, she made the decision to continue her education at Central Wyoming College. Two years after returning, she received her associate's degree and one year later, in 1989, she graduated from the CWC nursing program and became a registered nurse. She spent the rest of her life serving people as a nurse. Whether it was patients at Arapahoe Indian Health Service, students at Wyoming Indian or St. Stephens where she was the school nurse, or community members stopping by her house to seek her help, she took care of them all. She courageously illuminated the path and inspired many to follow in her footsteps to become a Registered Nurse. Her devotion to being a nurse has been with her for her entire life.
Karen was also devoted to serving the Lord. She was a fervently faithful believer in the works of the Creator expressed through traditional Arapaho ceremonial ways and the Catholic Church. She was an active member of the Catholic Church on the reservation for several decades and was a Trustee of the St. Stephens Indian Mission. She aspired to be a model of faith to her family, friends, and community. Throughout her life, despite the serious health issues she faced, Karen kept her faith by her side and never stopped praying. Through the prayers she offered, and those that were offered on her behalf, her faithful life continued beyond those circumstances. Now those prayers will carry Karen to the other side to be with Jesus and all her loved ones. She served the Creator in everything she did with every breath she took.
Karen also served her community. She was immensely active in making a difference in the world. Making sure our youth had access to a quality education was a key priority for her. She never missed an opportunity to positively impact the lives of our youth. Karen served as a founding member of the St. Stephens Indian Education Association, the entity responsible for implementing the former St. Stephens Catholic School to a school dedicated to educating Indian students on the reservation. She also was a member of the School Board of Wyoming Indian when the decision was made to unify the BIA high school with a K-8 school to become a unified K-12 public school district. She also served many terms as a Trustee of the Fremont County School District #38 - Arapahoe Schools. In addition to those school boards, she was a member of the Wind River Health Promotion Board, the Governor of Wyoming's Indian Affairs Council, and numerous boards, committees, and task forces throughout the years. Karen was even selected as the Wyoming Super Mom of the Year in 1995 as an acknowledgment of her incredible accomplishments as a mother to her children and to the community as a whole. She loved all of God's children and expressed that love at every opportunity.
Although Karen has traveled home, we remember the love she shared and know her legacy will live on with her children, 39 grandchildren, 21 great-grandchildren, her husband Howard, mother-in-law Geraldine, and sisters Angie and BillieAnn. All those whose lives she touched carry a piece of her with them in this world to be passed on to others. Her love will live on forever.
As she enters heaven, she will be greeted and embraced by her parents, her baby and three grandbabies who went home before taking their first breath, and her siblings, Mary, Deanna, Annie, Irene, Roy, Billy Boy, Jean, MaryJean, and Jerry. Her brothers Harold, Big John, and Alex Jr. will also receive her on the other side.
No'oo, you blessed your family through your peaceful transition just as you blessed us through your life. Creator called your name, Woxo'uwoonesei, on a holy, holy day and without hesitation you took off your blanket, put your feet on the side of the bed and spiritually walked on.