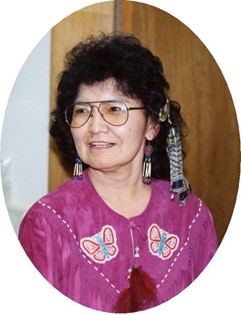 Bella Jean Savino
Jun 6, 1945 - Jul 15, 2023
Bella Jean Savino, 78, of Riverton, Wyoming passed away Saturday, July 15, 2023 at her home. Memorial services will be 11:00 a.m., Friday, July 21, 2023 at the Saint James Episcopal Church in Riverton. Reverend Amy Mayes will officiate.
Bella Jean was born June 6, 1945 on the Porcupine River near Fort Yukon, Alaska to David and Myra Henry Francis.
Reverend Savino was a priest with the Protestant Episcopal Church. She enjoyed home visits of parishioners and serving communion. She had been very involved with many church activities.
She had most recently lived in Wyoming having lived in Fairbanks, Alaska and grew up in Fort Yukon, AK.
She is survived by her son, Charles (Ashley) Aragon, Jr.; daughter, Sheila Aragon and (Leo Lajeunesse, Jr.); two grandchildren, Pete Aragon and Ashley Kaye Aragon; three great grandchildren; her husband, Don Savino of Fairbanks, AK sister, Millie Podolski and her husband, Zeno; numerous nieces, nephews, and God children in Wyoming and Alaska.
She is preceded in death by her parents David and Myra Francis; brother, Frankie and his wife Irene Francis.
On-line condolences may be made at TheDavisFuneralHome.com
Services are under the direction of Davis Funeral Home, Crematory, and Monuments.