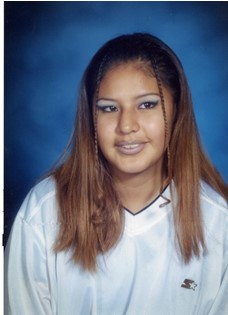 Tyla Trumbull
Nov 19, 1986 - Jul 15, 2023
Tyla Trumbull, 36, of Lander, Wyoming passed away at Wyoming Medical Center in Casper, Wyoming on Saturday, July 15, 2023. A wake will be held at 291 Plunket Road on Wednesday, July 19, 2023 at 7:00 pm. The funeral will be 9:00 am on Thursday, July 20, 2023, at the C'Hair Residence. Burial will follow at Yellowcalf Cemetry.
Tyla Fawn Trumbull was born on November 19, 1986 in Lander, Wyoming to Clark Trumbull, III and Vonda Kay Cripin. She grew up in Fremont County attending schools in Wyoming Indian Elementary, Lander Valley High School and Fort Washakie Charter. She lived in Casper, Salt Lake City, UT, Denver, CO, but mainly on the Wind River Reservation. She worked security for Sundance.
Tyla practiced the Traditional Native American religion. She was involved in the Sundance ways and sweats.
She enjoyed crocheting, spending time with family and friends, going to the casino, drawing, and going to the river and lakes to swim. She loved the Denver Broncos and the Golden State Warriors.
She is survived by her sons, Randy Clark Addison and Jase Quiver; daughters, Ariah Addison and Aiyana Quiver; grandmother, Ida A. Brown; brothers, Bub Shoyo, Leroy Revere, Jon C'Hair, Horace SunRhodes, Mickey Spoohnunter, Darwin Spoonhunter, Lee Spoonhunter, Guy SunRhodes, Cory SunRhodes, Brian SunRhodes, Tom Crispin and family and Chris C;Hair and family; sisters, Lexi R. Coando and Quintin Dewey, Kandy K. (Rabbit) Antelope, Makayla (Greg) Oldman and family, Mollie Trumbull, Shawna Crispin and family, Lechelle Spoonhunter, and Larae Shakespeare; uncle, Mick Spoonhunter; aunt Vicki (Mitchell) C'Hair; nephews, White St. Clair, Ruben St. Clair, Joel St. Clair, Clark Trumbull, Levi Trumbull, Billy Smith, Zayden Trumbull, Malcom Spoonhunter, Mason Spoonhunter, Levi Spoonhunter, Maximus Spoonhunter, and Josh Blind; nieces, Evonn C'Hair, Dezreen C'Hair, Bria Smith, Mora SunRhodes and Rue Dewey; numerous nieces, nephews and cousins.
She was preceded in death by her parents, Clark Trumbull, III and Vonda Kay Crispin; grandparents, Mollie and Clark Trumbull, John Crispin, and Charles E. Brown; daughter, Aubrey Quiver; sisters, Tianna Trumbull and Karen Trumbull; brothers, Mitchell C'Hair, Jr. and Saul SunRhodes; special friend, Raymond Antelope; aunts, Gloria Revere, Claudine Trumbull and Karen Trumbull; and uncles, David Spoonhunter, Dewight SunRhodes, Cory SunRhodes, Levi Trumbull, and Lori Spoonhunter.
We apologize for anyone we may have forgotten.
On-line condolences may be made at TheDavisFuneralHome.com
Services under the direction of Davis Funeral Home, Crematory, and Monuments