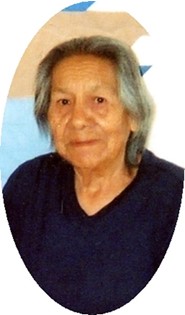 Nancy Dice
Sep 5, 1934 - Aug 24, 2023
Funeral services for Nancy Amos Dice, 88, will be held at 10:00 a.m., Wednesday, August 30, 2023 at Great Plains Hall. Interment will follow at Tyler Cemetery. A prayer service will start at 7:00 p.m., Tuesday, August 29, 2023 at Great Plains Hall in Arapahoe with an all-night wake to follow at her residence at 303 Left Hand Ditch Road Arapahoe, WY.
She passed away on Thursday, August 24, 2023 at the Help for Health Hospice Home in Riverton, Wyoming.
Nancy Doris Amos-Dice was born September 5, 1934 in Ethete, WY to Frank Amos and Nellie Tyler-Amos. Nancy passed on August 24th, 2023 in Riverton, WY. She was raised in Ethete, WY and St. Lawrence Basin. She made her home in Arapahoe, WY.
Nancy attended school at St. Michael's School in Ethete WY. Nancy was a Lander Pioneer Day Queen. She was employed at Holiday Inn as a laundry maid, Arapaho School as a cook, and Riverton Stop & Swap as an assistant. In Nancy's younger years, she would go to Rigby Idaho & Anadarko Oklahoma to work seasonal jobs. Nancy enjoyed watching westerns, reading, doing crossword puzzles, and most of all snapping pictures during family functions.
Nancy is survived by children: Karen (Daniel) C'Hair, Harold (Dee) Amos, Shannon (Debbie) Amos, Max (Sandra) Dice, Mary (Anslem) Lee, Alvina (Hurbert) Augustine, Anna Loneman, Peggy Loneman, Murial C'Hair, Charlie C'Hair, Julain C'Hair, Willie C'Hair, Ivan Yellowman, & Gordan (Connie) Yellowman. Nancy has 68 grandchildren, 140 great-grandchildren, & 30 great-great-grandchildren. Adopted Sister Marion Coen and children, Cousins Caroline Produit & Alvina Friday. Nancy was preceded in death by: her parents Frank & Nellie Amos, Siblings Verna (Charles) Loneman, June (Everette) Yellowman, Leonard Amos, Yvonne Amos, Jesse (Florine) Amos, Robert "Bobby" (Winona Whiteplume) Spoonhunter, 3 Nephews, 1 niece, 10 grandchildren, & 13 great-grandchildren.
The family apologies if anyone was left out but know you are loved and appreciated.
On-line condolences may be made at TheDavisFuneralHome.com.
Services are under the direction of Davis Funeral Home, Crematory, and Monuments.