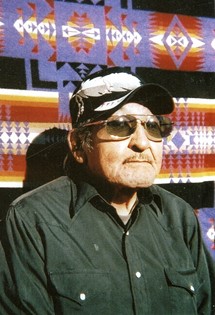 George T.W. "Bucky" Buckman
Aug 26, 2009 - Aug 26, 2009
Funeral services for George T.W. "Bucky" Buckman of the Wind River Reservation will be at 10 a.m. Saturday, Aug. 29, at St. Stephen's Mission south of Riverton. The Rev. Father Dan Gannon will officiate.

Interment will be at the Sharpnose Cemetery on the reservation.

There will be a rosary at 7 p.m. Friday, Aug. 28, at St. Stephen's Catholic Church. A wake will follow at the Cora Durgin residence, 750 Rendezvous Road.

Mr. Buckman died Saturday morning, Aug. 22, 2009, at his home. He was 63.

George Thomas Washington Buckman was born on May 20, 1946, at Fort Washakie, the son of John Buckman II and Patricia Washington. He attended Flandreau School in South Dakota and St. Stephen's Schools.

He lived in Denver for 30 years, in Albuquerque, N.M., for five years, and outside of Riverton for the past 20 years.

Mr. Buckman was a steel worker and laborer on the Arapaho Ranch. He also worked as a ranch hand, in construction and rode and broke horses.

He was of the Catholic faith and participated in traditional sundance ceremonies.

His family said Mr. Buckman enjoyed leather crafts, listing to Western music, watching history and Western movies, and doing the Denver shuffle.

Survivors include his companion, Lisa Molash of Riverton; daughter, Amber Wellington; 93 grandchildren and 24 great grandchildren; a brother, Teddy Washington; sisters, Leona St. Clair, Marian Buckman, Beatrice Potter, Georgetta Rivera, Elva Buckman, Elvina Buckman, Shirley C'Bearing-Washington.

He was preceded in death by his parents, John Buckman II and Patricia Washington; maternal grandparents, Bridget Lamoraux and George Washington; paternal grandparents, John and Adelaide Littleshield Buckman; grandfather, Anthony Iron; sisters, Phyllis Tillman, Betty Addison, and Ramona White; Alfred and Edward, and a son, Shawn Buckman.

Online obituaries are available and condolences for the family may be made at thedavisfuneralhome.com.

Services are under the direction of the Davis Funeral Home of Riverton.