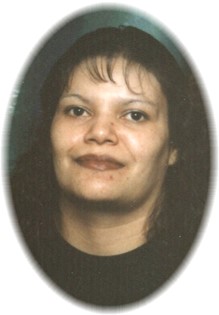 Shawna Rae Walker
Jun 24, 1974 - Sep 11, 2009
Shawna R. Walker of rural Riverton died Friday night, Sept. 11, 2009, at Riverton Memorial Hospital. She was 35.

Funeral Mass will be at 10 a.m. Thursday, Sept. 17, at St. Stephen's Catholic Church with interment to follow at the Arapaho Catholic Cemetery at St. Stephen's.

There will be a rosary at the Davis Funeral Home of Riverton at 7 p.m. on Tuesday, Sept. 15, with a second rosary at Eagle Hall at St. Stephen' s at 7 p.m. on Wednesday, Sept. 16, followed by a wake at Eagle Hall, continued at the family home 950 Rendezvous Road.

Shawna Rae Walker was born in Lander on June 24, 1974, the daughter of Cecil A. Walker, Sr., and Joanne (Blackburn) Walker.

She was a life-long resident and grew up on the Wind River Reservation, attending St. Stephen's School.

Miss Walker worked as a cashier at the Wind River Casino for two and a half years, had worked as a CNA at the Wyoming State Training School, and Wind River Healthcare and Rehabilitation. Her family said she enjoyed helping the elderly and cooking for the summer feeding programs.

She was a member of St. Stephen's Catholic Church and attended sweats.

Her family said she loved being with her friends, children, and family and at an earlier aged enjoyed camping with her family.

Survivors include her mother, Joanne Walker; father, Cecil Walker, Sr.; children, Brittany and Jared LittleWhiteman, Cole, Jordan, and Jaden Walker; brothers, Linc Simmons of Denver, Colo., CJ Walker, Raymond Walker, Preston Walker, Jimmy Wheeler, Richard Brown of Casper, and Maurice " Jason" Walton; nephew, Aidan Spoonhunter; uncles, Dan Brown and Susanna, Kenneth Blackburn and Evelina, Jimmy Blackburn and Ruby, Delmont Shakespeare and Ann, Pockets Shakespeare and Cheryl, Crawford Shakespeare, David Shakespeare, Chance Shakespeare, Alden Lock, Sr.; aunts, Patricia Snook, Birdie Brown, Billy Maxwell and Burly, Camille Shakespeare, Cindy Shakespeare, Sandra Shakespeare; sisters, Laureen Case and Rocky, Levenia Brown and Harold, Roanna and John Suraco of Butte, Mont., Lanette Brown of Casper, Brenda Hubbard and Pat, Cathy Dodge, Sherry Blackburn, Geraldine Blackburn, Deirdre Blackburn, Yvette Blackburn, and Lupe Blackburn; cousins, Jerome Oldman, Jr., Tom Oldman, Duane Oldman, Noreen Oldman, and Denise Oldman; extended families of Headley, Blackburn, Yellowbear, C' Hair, Shakespeare, Littleshield, Brown, and Oldman; numerous nieces and nephews.

She was preceded in death by her grandparents, Lucy Brown Blackburn, Ambrose and Angela Walker, Dana Shakespeare, Tony Shakespeare; uncles, Wilbur Walker, Leland Walker, Emmett Walker; aunts, Carmen Fox, Angela Blackwolf, and Maurice " Bozo" Shakespeare.

On-line obituaries are available and condolences for the family may be made at thedavisfuneralhome.com.

Services are under the direction of the Davis Funeral Home of Riverton.