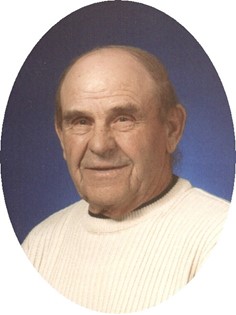 Herman Eugene Blumenshine, Sr.
Feb 7, 1930 - Oct 31, 2009
Memorial services for Herman Eugene Blumenshine, Sr. will be at 11 a.m. on Friday, Nov. 6, at at Mountain View Cemetery in Riverton. Pastor David Magruder of Trinity Lutheran Church will officiate along with Pastor Vernon Boelhke. The Wyoming Army National Guard will provide military honors.

There will be a viewing and visitation at the Davis Funeral Home from 4 to 5 p.m. on Thursday, Nov. 5.

Mr. Blumenshine died on Saturday evening, Oct. 31, 2009, at his home in Riverton, surrounded by his family. He was 79.

Herman Eugene Blumenshine was born on Feb. 7, 1930 in Longmont, Colo., the son of John Blumenshine and Katherine (Befus) Blumenshine. He moved to Riverton when he was one year old.

Mr. Blumenshine was a long-time farmer in Missouri Valley until 1985. He continued to farm off and on his entire life. Some of the farm work involved helping his uncle and children. Later he worked for Midvale Irrigation for 10 years, then for Riverton Valley Irrigation for one year. On March 11, 1957, Mr. Blumenshine married Thelma Real in Las Vegas, Nev.

Mr. Blumenshine was a member of Trinity Lutheran Church and a U.S. Navy veteran of the Korean War.

His family said he was an avid fisherman, and enjoyed hunting, and the outdoors.

Mr. Blumenshine is survived by his wife of 52 years, Thelma (Real) Blumenshine; sons, Ronald Blumenshine and wife Susan of Riverton, Herman Blumenshine and wife Gina of Riverton, Mykle Blumenshine and wife Kessa of Boise, Idaho; daughters Zelda Svilar and husband Jim of Riverton, Stacy Young and husband Terry of Lemoore, Calif.; grandchildren, Jennifer Heckert, Brian Blumenshine, Jared Blumenshine, Jacob Blumenshine, Ashley Blumenshine, Mykle Blumenshine, Jr., Kevin Young, Josh Blumenshine, Hannah Svilar, Trystin Blumenshine; six great grandchildren; brother, Leonard Blumenshine and wife Jo of Aurora, Colo.; sister, Shirley Hollenbeck and husband Andy of Cheyenne.

He was preceded in death by his parents, John and Katherine (Befus) Blumenshine.

Memorials may be made to Trinity Lutheran Church or Little Wind Hospice, in care of the Davis Funeral Home, 2203 West Main Street, Riverton, WY 82501.

On-line obituaries are available and condolences for the family may be made at: thedavisfuneralhome.com.

Services are under the direction of the Davis Funeral Home of Riverton.