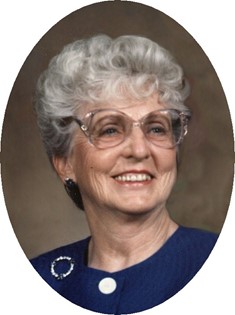 Donna D. Petsch
Oct 10, 1926 - Nov 18, 2009
Funeral services for Donna D. Petsch of Riverton will be at 2 p.m. on Saturday, Nov. 21, at the Davis Funeral Home of Riverton. Her son-in-law, John Fixter, will officiate with interment to follow at Mountain View Cemetery in Riverton.

There will be a viewing from 1 to 2 p.m. Saturday at the funeral home.

Mrs. Petsch died at her home in Riverton on Wednesday, Nov. 18, 2009, at the age of 83.

Donna Darlene Angel was born in Benkelman, Neb., on Oct. 10, 1926, the daughter of Lyle and Bonna Winifred (Scott) Angel. She grew up in Benkelman.

Mrs. Petsch was a homemaker, having married Jack Petsch in Birdcity, Kan., on July 19, 1942. The couple moved to Riverton following Mr. Petsch's discharge from the U.S. Army. They made their home in Riverton for more than 60 years and recently celebrated their 67th wedding anniversary. For 20 years they spent winters in Mesa, Ariz.

Mrs. Petsch was a member of the United Methodist church, having taught Sunday school and making candy for the yearly Christmas bazaar.

Her family said Mrs. Petsch enjoyed music, swimming and her greatest joy was her grandchildren and great-grandchildren. They said she was a sports fan and assisted her son and husband develop Riverton Little League baseball, often manning the concession stands. She also decorated cakes for weddings, birthdays, Day in the Park, passing the skill to her granddaughter. They said she enjoyed traveling with her husband in their motorhome.

After their children were raised, she was a bookkeeper for the livestock auctions while her husband was manager of the businesses in Riverton, Lander, and Torrington.

Survivors include her husband, Jack of 67 years; son, Jack "Jackie" Petsch, Jr., of Cody, a daughter, Sharon Fixter and her husband John of Jackson; grandchildren, Julie LePage and husband Mike, their two children Reed and Harper James; Andi Leigh Petsch, Mandy Darr and husband Matt, their two children, Addison and Isaiah, Mark Fixter and wife Katie, their child Kye, Timothy Fixter and wife Melisa, their child Makenzie; a half-brother, Marvin Angel of Portland, Oregon; a sister-in-law, Velda Markbe of Saratoga.

She was preceded in death by her parents, and a half-sister, Corolyn Sears.

Memorials may be made to the Alzheimer's Foundation, in care of the Davis Funeral Home, 2203 West Main, Riverton, WY 82501.

On-line obituaries are available and condolences for the family may be made at: thedavisfuneralhome.com

Services are under the direction of the Davis Funeral Home of Riverton.