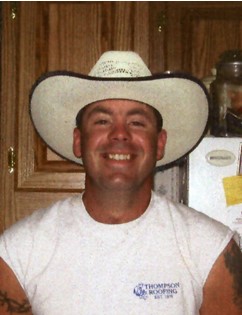 Eddie R. Plush
Mar 25, 1977 - Dec 12, 2009
Edmund R. "Ed" Plush died at his home in his sleep on Saturday, Dec. 12, 2009, at the age of 32.

Services will be at 10:30 a.m. Wednesday, Dec. 16, at the First Assembly of God Church, 701 East Adams, Riverton. Pastor Mark Shaklee will officiate. A viewing will be held from 9:30 a.m. to 10:30 a.m. at the church. Interment will be at Mountain View Cemetery in Riverton.

Edmund Ralph Plush was born in Mobridge, S.D., on March 25, 1977. He moved to Wyoming with his family in 1980 and attended schools in Riverton and Shoshoni.

His family said he enjoyed spending time with his family and friends but, most of all, loved being with his children. They said he enjoyed all outdoor activities, including hunting, fishing, riding his motorcycle, horseback riding and spending time in the mountains and at lakes. He traveled many places including the Mardi Gras in New Orleans, on a fishing boat on the Bearing Sea based out of Alaska, in Texas, Mississippi, and Washington state.

Mr. Plush was primarily employed in carpentry and roofing.

Survivors include his fiancé, LeeVon Clausen; sons, Edmund Rylee and Nathaniel; daughters, Brianna and Bethani; parents, Dennis and Linda Plush; sister, Mary Moseley, all of Riverton; sister, Lisa Randol and husband Hayes of Meeteetse; brothers, Joe and his wife Angel of Pavillion and David and his wife Jackie of Gillette; six nephews and three nieces; grandmothers, Irene Plush of McLaughlin, S.D., and Coroline Nehl of McIntosh, S.D.; numerous aunts, uncles and cousins.

He was preceded in death by grandfathers, Ralph Plush of McLaughlin, S.D., and Edmund Dirk of Newell, S.D.; one cousin, Justin Powell of McIntosh, S.D.

Memorials may be made to: Eddie Plush Memorial Fund, PO Box 1831, Riverton, WY 82501.

On-line obituaries are available and condolences for the family may be made at: thedavisfuneralhome.com

Services are under the direction of the Davis Funeral Home of Riverton.