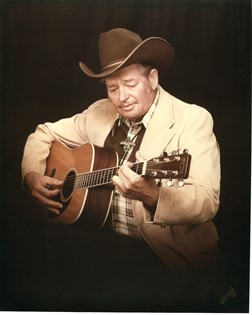 Robert A. "Bob" Poff
Dec 25, 1920 - Jan 25, 2010
Robert A. "Bob" Poff of Riverton died on Sunday, Jan. 24, 2010, at the Hospice Home in Riverton. He was 89.

Cremation has taken place and memorial services will be at 10 a.m. Friday, Jan. 29, at the Davis Funeral Home of Riverton with his son-in-law the Rev. Hilmer Kiser of Seward, Alaska, officiating.

Committal rites by the Veterans of Foreign Wars will be at Mountain View Cemetery in Riverton.

Robert Arvid Poff was born in Bradford, Ill., on Dec. 25, 1920, the son of George (Henry) Poff and Blanche (Van de Vanter) Poff. He attended schools in Illinois.

Mr. Poff married Anne Patricia (Pattersen) in Laguna Beach, Fla., on Aug. 8, 1944, where he was serving in military service.

He was of the Protestant faith

Mr. Poff was a heavy equipment operator who had worked as a coal miner and uranium miner for Kiewitt's Mining.

He had lived in Riverton for the past 41 years, with some time in Dayton and Sheridan.

Mr. Poff had owned and operated Bob's Kenai Lake Lodge in Cooper Landing, Alaska, had been a police officer in Riverton, farm boss at the Wyoming Honor Farm, farmer, rancher, and in civil service with the Air Force at Elmendorf Air Force Base in Anchorage, Alaska, maintaining roads and grounds in the bush.

His family said Mr. Poff enjoyed singing, playing the guitar and dobro, doing leather work, writing cowboy poetry, children's stories and songs. He sang with Patsy Kline and on the Grand Ol' Opry, and recorded an album and several single records in Nashville, Tenn. The family said he was proud of his family and their accomplishments.

He was a member of the Veterans of Foreign Wars, American Legion, Wyoming Peace Officers, Cowboy Poetry Association, and Union 301 Operating Engineers.

Survivors include his wife, of 65 years, Anne Poff of Riverton; daughters, Roberta Hobbs and husband Al of Wheatland, Robin Harrington and husband Fred of Riverton, Anita Lobdell and husband Red of Riverton, Maranna Kiser and husband Hilmer of Seward, Alaska, and Rebecca Lewis of Riverton; a son, Robert "Bobby" Poff and wife Kate of Riverton; 14 grandchildren and 27 great grandchildren; a sister, Anne Konic of Nashville, Tenn., and one brother, Russell Poff and his wife Minnie of Tiscawa, Ill.

Mr. Poff was preceded in death by his parents, George Henry Poff and Blanch (Van de Vanter) Poff; sisters, Dodie Farley, Jean Fulk, Janet Ewing, and Midge Walters; one brother, Henry Poff, who was killed in Sicily during World War II, and one grandson, Lonnie Dean Harrington.

Memorials may be made to the Help for Health Hospice Home, in care of the Davis Funeral Home, 2203 West Main, Riverton, WY 82501.

On-line obituaries are available and condolences for the family may be made at: thedavisfuneralhome.com.

Services are under the direction of the Davis Funeral Home of Riverton.