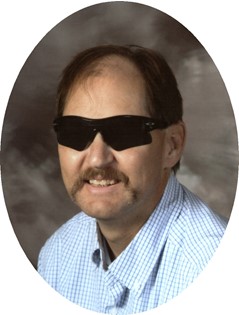 Lance S. Huber
Nov 13, 1966 - Apr 12, 2010
Lance S. Huber of Riverton died on Monday, April 12, 2010, at the Wyoming Medical Center in Casper of complications of diabetes. He was 43.

Funeral services will be at 1 p.m. on Saturday, April 17, at the Trinity Lutheran Church in Riverton. Pastor David Magruder will officiate. Interment will follow at Mountain View Cemetery in Riverton.

There will be a viewing from 5 to 7 p.m. Friday, April 16, at the Davis Funeral Home of Riverton.

Lance Stewart Huber was born in Riverton on Nov. 13, 1966, the son of Harold Huber, Jr., and Sandy Odde.

He grew up in rural Riverton, graduating from Riverton High School in 1985. He attended Casper College, Eastern Wyoming Community College, and the University of Wyoming, graduating with a Bachelor's degree in social science.

Most recently, Mr. Huber was a volunteer at Trinity Lutheran School in Riverton, where he worked with the middle school students.

His family said he was also very involved in the 4-H program, leading the horse and livestock judging teams. They said he loved working with children, enjoyed fishing, was an avid sports fan, and participated in the Hellavahunt in Douglas.

Mr. Huber is survived by his mother, Sandy Odde; his father, Harold Huber, Jr., and his wife Charlene; his sister, Nicole Odde; nephew, Collin McGarvey; grandmothers, Pauline Leonhardt and Lois Huber; uncles and aunts, Steve and Chris Leonhardt of Riverton, Debbie and Tad McMillan of Keensburg, Colo., Kurt and Janay Leonhardt of Casper, Greg and Laurie Leonhardt of Yuma, Colo., Bill and Barbra Huber of Denver, and Kitty and Jack Morey of Buffalo; 18 first cousins and 29 second cousins, and his guide dogs, Halsey and Murphy.

He was preceded in death by his grandfathers, Paul Leonhardt and Harold Huber.

Memorials may be made to Guiding Eyes for the Blind or Trinity Lutheran School, in care of the Davis Funeral Home, 2203 West Main, Riverton, WY 82501.

On-line obituaries are available and condolences for the family may be made at: thedavisfuneralhome.com

Services are under the direction of the Davis Funeral Home of Riverton.