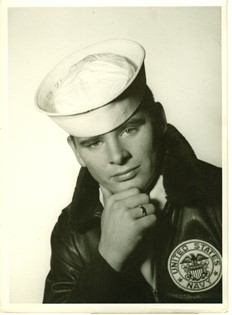 Howard E. "Butch" Kautz
Feb 28, 1946 - Apr 18, 2010
Howard E. "Butch" Kautz died at his home in Riverton on Sunday morning, April 18, 2010, at the age of 64.

Cremation has taken place and, according to his wishes no services will be held.

Howard Eugene Kautz was born in Portland, Oregon, on Feb. 28, 1946, the son of Henry Kautz, Jr., and Margaret (Dierks) Kautz. He grew up in Sandy, Oregon, and attended Sandy school.

He was a U.S. Navy veteran of the Viet Nam War, having joined the military service at the age of 17. He served on the first nuclear aircraft carrier, the USS Enterprise, from 1963-1967

On June 22, 1996, he married Bonnie B. Hirsch in Milino, Oregon.

He lived in Sandy and Portland, Oregon, for most of his life, moving to Riverton in 2005.

Mr. Kautz worked the heavy equipment industry, working here for Big Wyoming Trucking and Bailey's. He was a heavy equipment operator, mechanic, and welder.

He was baptized into the Episcopal faith.

Mr. Kautz was a 13-year member of the B.P.O. Elks Lodge in Oregon City, Oregon, and in Riverton belonged to the American Legion, Veterans of Foreign Wars, and Disabled American Veterans.

His family said Mr. Kautz enjoyed fishing, hunting, boating, and loved animals.

Survivors include his wife, Bonnie of Riverton; children, Priscila Collingwood of Texas, Tami and husband Tim Hunter of North Plains, Oregon, Staci Kautz of Hillsboro, Oregon, Rosalee and husband Bill of Portland, Oregon, Annette of Portland, and Lorraine Liesch of Portland; numerous grandchildren; brothers, Kenneth Kautz and his wife Joyce of Sandy, Oregon, and Rick Kautz of Portland, Oregon; sisters, Jo "Feeny" Butler of Sandy, Oregon, and Diane Byrd of Portland, Oregon.

He was preceded in death by his parents; two sisters, Molly and Barbara, and one brother, Robert.

Memorials may be made to the Kautz family, in care of the Davis Funeral Home 2203 West Main, Riverton, WY 82501.

On-line obituaries are available and condolences for the family may be made at: thedavisfuneralhome.com

Arrangements are under the direction of the Davis Funeral Home of Riverton.