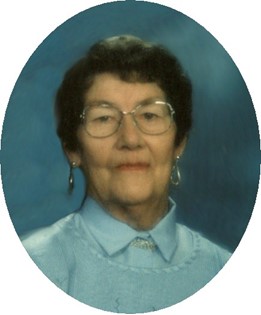 Joan Marie Harris
Feb 21, 1929 - May 17, 2010
Funeral services for Joan M. Harris of Riverton are at 10 a.m. on Thursday, May 20, at the Davis Funeral Home of Riverton with interment to follow at Mountain View Cemetery. Clergy from the Church of Jesus Christ of Latter-day Saints will officiate.

Viewing is from 5 to 7 p.m. Wednesday, at the funeral home.

Mrs. Harris died on Monday, May 17, 2010, at Riverton Memorial Hospital. She was 80.

Joan Marie McCallum was born in Kirby, Wyo., on Feb. 21, 1929, the daughter of Milton Richard Agenstine McCallum and Florence Nightingale (MacCallum). Most of her childhood was spent in Kirby, attending a one-room school house there through the eighth grade, helping the teacher as the only eighth grader and excelling at sports. She also took piano lessons in Thermopolis. Here her father was a telegrapher for the Burlington Railroad and was station agent. During World War II, her father was promoted to dispatcher and moved to Casper. She was graduated from Natrona County High School in Casper in 1947, having been on the swim team.

She got a job as a telephone operator right out of high school and it was while doing that that she met her future husband. She married Milton Henry Harris, Sr., at the First Methodist Church in Casper on Oct. 23, 1948. He preceded her in death in 2006.

Mr. and Mrs. Harris spent about the first 10 years of their married life moving from one town to another with the telephone company. Milton Henry, Jr., was born on Aug. 8, 1949, John on June 11, 1952, and Charles on March 8, 1956. The family came to Riverton in 1956, after living in Cheyenne and Casper.

Mrs. Harris was a member of the LDS Church.

She was a past president of the Women's Auxiliary to the Eagles Lodge.

Her family said she was a staunch Democrat who worked for the Democratic election committee in the 1960s. Mr. and Mrs. Harris were league bowlers for over 15 years. Her family said Mrs. Harris loved to cook and her specialties included shortbread cookies, banana bread, enchiladas, and tacos. They said she enjoyed doing work puzzles and Jumble in the newspaper, John Wayne movies, and loved her poodles.

Mrs. Harris was a homemaker who also worked at Clark's Meat House, Mr. D's, and the Airport Café.

Survivors include three sons, Milton Harris, Jr., of Elko, Nev., John Harris and his wife Jerri of Anchorage, Alaska, and Charles Harris and wife Melody of Saratoga; 10 grandchildren and 10 great grandchildren; a sister, Ellen Gwynn and her husband Ed of Cody.

She was preceded in death by her parents, her husband, and a brother, Dick Agenstine.

On-line obituaries are available and condolences for the family may be made at: thedavisfuneralhome.com

Services are under the direction of the Davis Funeral Home of Riverton.