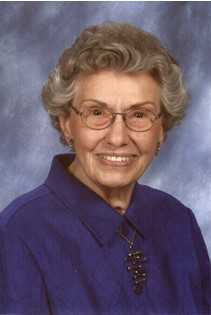 Vivian D. Norman
Nov 21, 1923 - Aug 1, 2010
Memorial services for Vivian D. Norman of Riverton are at 2 p.m. on Friday, Aug. 13, at the United Methodist Church of Riverton. The Rev. Mark Thurman will officiate.

Mrs. Norman died at her home on Sunday, Aug. 1, 2010, at the age of 86.

Vivian D. Wall was born in Iberia, MO on November 21st, 1923, the daughter of Clyde E. and Malinda E. (Crisman) Wall. Her childhood was spent in the Colorado Rockies and Pueblo Colo.

She was graduated from high school in Pueblo with the Class of 1941. She then was graduated from Denver University with a Bachelor of Science degree. She was a member of the Gamma Phi Beta sorority.

On Sept. 17, 1947, she married Roy H. Norman in Denver, Colo. The couple later divorced. Married life took her on the road in Idaho and Montana before settling in Riverton in 1956.

Mrs. Norman was a member of the United Methodist Church of Riverton where she served on many committees, was a youth group leader, lay leader, and conference representative.

She was a member of the Association of University Women, League of Women Voters, Garden Club, a Girl Scout leader and cookie sale chairman, member of After Five Christian Women's Club, and Red Hats.

Her family said Mrs. Norman loved gardening and flower arranging and enjoyed traveling, especially in the mountains from the Teton Range to Italy and the volcanoes of Mexico. An avid music and art enthusiast, the family said she loved jazz and played the piano with "swing." They said she loved dancing and was a waltz contest winner.

Mrs. Norman had been a medical technologist, first in Denver after World War II, then Rawlins and Riverton hospitals, and the 12th Street Clinic. Most recently, she worked in distance learning with the University of Wyoming Outreach.

Survivors include her daughters, Christi Norman of Seattle, Wash., and Nancy (Nick) Anderson of Riverton; grandsons, Justin (Jenna) Anderson, Boyd (Kati) Anderson, and Ross Anderson, all of Riverton; great grandsons, Jace, Jaemen, and Cade Anderson; a sister, Gwen Willson of Fullerton, Calif.

She was preceded in death by her daughter, Shelley Norman, and her parents, Clyde and Malinda Wall.

Memorials may be made to Help for Health Hospice House or the United Methodist Church, in care of the Davis Funeral Home 2203 West Main, Riverton, WY 82501.

On-line obituaries are available and condolences for the family may be made at: theDavisFuneralHome.com

Arrangements are under the direction of the Davis Funeral Home of Riverton.