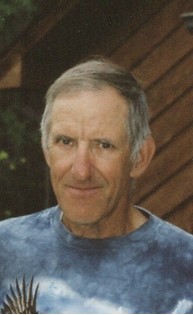 Ronald K. McDonald
Jan 1, 1944 - Aug 13, 2010
Military interment for Ronald K. McDonald of rural Riverton are at 10 a.m. Saturday, Aug. 28, at Mountain View Cemetery in Riverton.

Mr. McDonald died at his home on Friday, Aug. 13, 2010, at the age of 66.

Ronald Kneip McDonald was born on Jan. 1, 1944, in Janesville, Wis., the son of Robert and Louise (Kneip) McDonald. He grew up in Stevens Point, Wis., where he was graduated from P.J. Jacobs High School and he completed two years of college at the University of Wisconsin-Stevens Point before enlisting in the U.S. Navy.

Mr. McDonald met his future wife, June Leone Dickins, also in the U.S. Navy while they were both stationed in San Diego, Calif. Their son, Michael Scott McDonald, was born one year later and he too served with the U.S. Navy for eight years.

Mr. and Mrs. McDonald and their son lived throughout the United States with the Navy, Navy Reserves and the Veterans Administration.

While in the U.S. Navy, Mr. McDonald was a radio operator and received the Navy Bronze Star during his service in Viet Nam. After a combined total of 30 years of active and reserve duty, he retired from the Naval Reserves with the rank of Senior Chief Petty Officer.

Mr. McDonald was a supply clerk during his employment with the Veterans' Administration.

Upon his retirement, Mr. and Mrs. McDonald moved to Sheridan before settling in Riverton in September of 2001.

Mr. McDonald donated his time to the Riverton Public Library, drove veterans to medical appointments for the DAV, served as a Post Commander for the Veterans of Foreign Wars, and was on the board of the Atlantic City Federal Credit Union.

His family said his hobbies included traveling, scroll sawing, cross stitiching, skiing, running, fishing, golfing, and especially his Golden Retriever dogs. They said he also loved to putter in the vegetable garden and his workshop.

Mr. McDonald was preceded in death by two brothers; his wife, June, in 2007; his son, Michael Scott, in 2009, and his parents.

He is survived by one sister, Jean Wright and her husband Eldon of Worland, and an older brother, Robert McDonald and his wife Karen of Stevens Point, Wis.

Because Mr. and Mrs. McDonald were so devoted to their Golden Retrievers, a memorial fund has been established for the care of abandoned retrievers at the Golden Retriever Rescue Group in Casper and has been set up at the Atlantic City Federal Credit Union in Riverton.

On-line obituaries are available and condolences for the family may be made at: theDavisFuneralHome.com

Local arrangements are under the direction of the Davis Funeral Home of Riverton.