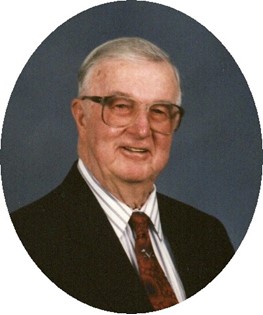 Lawrence L. "Larry" Smith
Jun 11, 1912 - Aug 30, 2010
Lawrence L. "Larry" Smith of Riverton died at his home in Riverton on Monday, Aug. 30, 2010, at the age of 98.

Funeral services are at 2 p.m. on Friday, Sept. 3, at the Davis Funeral Home of Riverton. The Rev. Vernon Boelke officiates with burial to follow at Mountain View Cemetery in Riverton.

Viewing is from 6 to 7 p.m. on Thursday, Sept. 2, at the funeral home.

Lawrence Lee Smith was born in Lewistown, Ill., on June 11, 1912, the son of Earl Snowden Smith and Bertha Lavon (Fultz) Smith.

He came to Fremont County in 1929, homesteading in Missouri Valley. In 1947, he took over his father's homestead in Riverton Valley. Mr. Smith retired in 1976 and moved into Riverton.

He married Ruth Vivien Luke Blomberg on Oct. 8, 1945, at the United Methodist Church of Riverton. She died on Jan. 15, 1973. On Jan. 2, 1976, he married Mabel Cox at the Trinity Lutheran Church of Riverton.

Mr. Smith was a member of the Trinity Lutheran Church.

He was a farmer and also owned and operated the Koffee Kup Cafe in Riverton with his daughter, Tess Piercy, from 1971 to 1983.

In addition to farming, his family said Mr. Smith enjoyed traveling, including cruises and in the couple's motor home.

Survivors include a son, Lyle Cox and his wife Jo of Casper; daughters, Tess Piercy, and Nancy Shriner and her husband Glen, all of Riverton; 10 grandchildren, Theresa Clarke, Joseph Reese, Vivien Piercy, Vance Piercy, and Vonn Piercy all of Riverton, Vincent Piercy and his wife Lori of Elko, Nev., Heather Bracken of Billings, Mont., Adair Trujillo and husband Tim of Denver, Colo., Greta Maxfield-Schoen of Sheridan, and Ted Maxfield and wife Jill of Nevada, Mo. ; 18 great grandchildren; 20 great-great grandchildren; sisters, LaVon Von Krosick Haun of Texas and Martha Fedricks of California.

He was preceded in death by his first wife, Ruth in 1973, and his second wife, Mabel in 2007; two brothers, Curtis and Raymond Smith, and one granddaughter, Ruth Nelson.

Memorials may be made to the Trinity Lutheran School of Riverton, in care of the Davis Funeral Home, 2203 West Main, Riverton, WY 82501.

On-line obituaries are available and condolences for the family may be made at: theDavisFuneralHome.com

Services are under the direction of the Davis Funeral Home of Riverton.