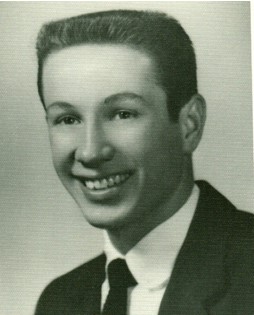 Tony Masters
Oct 3, 1936 - Aug 30, 2010
Funeral services for Tony Masters of Riverton are at 10 a.m. on Saturday, Sept. 4, at the United Baptist Church of Riverton. Pastor Mark Yeatman officiates and interment follows at Mountain View Cemetery in Riverton.

Mr. Masters died on Monday, Aug. 30, 2010, at the Natrona County Rest Stop near Waltman. He was 73.

Delbert Dean "Tony" Masters was born in St. Joseph, Mo., on Oct. 3, 1936, the son of Charles Herman Masters and Helen Juanita (Cadwaller) Masters.

He lived in St. Joseph for 33 years and in Riverton for the past 41 years.

Mr. Masters was a teacher and coach. He received his Bachelor of Science degree in social studies and physical education from Northwest Missouri State University and his Master's degree in recreation from the University of Wyoming.

He married Brenda Blum in St. Joseph on Nov. 29, 1957.

He was of the Baptist faith and served as a Sunday school teacher, on church committees, as chairman of ushers, was instructor in the Wyoming Southern Baptist Disaster Relief program, going to North Dakota to provide relief in the flooding of the Red River at Fargo.

He began his career at Easton Missouri, continuing on to Faucett then Savannah, Mo., teaching and coaching. He served in education and as an assistant baseball coach at Northwest Missouri State University. Coming to Riverton, Mr. Masters was a teacher, head basketball coach, chairman of the physical education department and Athletic Director at Central Wyoming College.

He also worked as a school principal at Hanna/Elk Mountain.

Mr. Masters was recreation director for the city of Riverton in 1970, manager of the Riverton outdoor swimming pool, served on the Fremont County Recreation Board, worked on the Green Mountain Recreation Project, on the board for the South Pass City Historical Site, and past president of the National Junior College Athletic Association for Region IX.

His family said Mr. Masters loved sports, Western movies, raising Angus cattle, and especially loved having his grandson, Cory, come to lunch.

Mr. Masters is survived by his wife of nearly 53 years, Brenda Kay Masters of Riverton; a son, Mark Dean Masters and wife Julie of Laramie; a daughter, Mindy Kay Doebele and husband Mark of Riverton; five grandsons, Brennan Masters, David Masters, Cory Smith, Max Doebele, and Teron Doebele; two granddaughters; Taya Grace Doebele, Jennifer Masters Schimek and husband Troy; one great grandson and three nephews.

He was preceded in death by his parents, one sister, and one brother.

Memorials may be made to the United Baptist Church of Riverton in care of Davis Funeral Home, 2203 W. Main, Riverton, WY 82501, or flowers are welcome.

On-line obituaries are available and condolences for the family may be made at: theDavisFuneralHome.com

Service are under the direction of the Davis Funeral Home of Riverton.