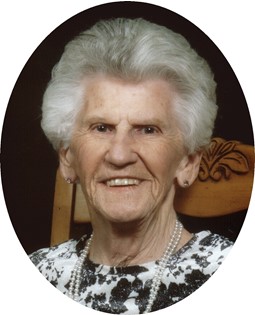 Catherine Bessey
Sep 1, 2010 - Sep 14, 2010
Catherine Bessey, 84 of Riverton, died on Tuesday, Sept. 14, 2010, at the Help for Health Hospice Home in Riverton.

Funeral services are at 10 a.m. on Monday, Sept. 20, at the Davis Funeral Home of Riverton. The Rev. Father Andrew Duncan officiates. Interment will be at Mountain View Cemetery in Riverton.

Viewing is Sunday evening, Sept. 19, from 5:30 to 6:30 p.m. followed by a rosary at 7 pm.

Catherine Ann. Applehans was born in Riverton on Feb. 1, 1926, the daughter of John Applehans, Sr., and Monica (Rolheiser) Applehans. She attended Riverton schools and had lived here most of her life.

Mrs. Bessey was a housewife, having married Marlin Bessey in Riverton on Oct. 12, 1953. Her family said that taking care of her family and friends was her priority

She was of the Catholic faith.

Mrs. Bessey had lived in Idaho Falls, Idaho, for approximately 10 years, and spent four years at the Cedar Ridge Inn assisted living facility in Farmington, N.M., before returning to Riverton.

Her family said Mrs. Bessey enjoyed beading and making jewelry, flower arranging and gardening, cooking, dancing, especially the polka and jitterbug, and helping her husband with their trucking business.

Survivors include a daughter, Debbie Bessey of Riverton; two sons, Steve Bessey and his wife Vickie of Riverton ; Paul Bessey and his wife Kelly of Farmington, N.M.; seven grandchildren, Toby Bessey of Farmington, N.M., Chad and Abigail Bessey of Japan, Amanda Bessey of Farmington, Daniel Bessey of Riverton, and Emiley, Grant, and Gracie Bessey of Farmington; five great grandchildren; a sister, Mary Fabrizius of Riverton and numerous nieces and nephews.

She was preceded in death by her husband, Marlin Bessey on July 14, 2001; a sister, Annie Moran; brothers, Felix Applehans, George Applehans, Joe Appelhance, and John Applehans.

Memorials may be made to the Help for Health Hospice Home in care of the Davis Funeral Home, 2203 West Main, Riverton, WY 82501.

On-line obituaries are available and condolences for the family may be made at: theDavisFuneralHome.com

Services are under the direction of the Davis Funeral Home of Riverton.