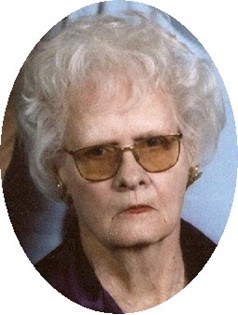 Eleanora V. McGill
Feb 25, 1918 - Oct 2, 2010
Memorial services for Eleanora V. McGill, 92, will be held 11 a.m. on Friday, Oct. 8, at the United Presbyterian Church of Riverton with the Rev. Linda Norris officiating. Interment at Mountain View Cemetery was held prior to services.

Mrs. McGill died on Saturday Oct. 2, 2010 at Help for Health Hospice Home in Riverton.

Eleanora Vee Loghry was born on Feb. 25, 1918 in Onaka, S.D., the daughter of John and Eliza May (Warren) Loghry.

She married Carl McGill on Dec. 29, 1934, in Burwell, Neb. The couple moved to Riverton in 1956.

Her family said Mrs. McGill enjoyed bingo, gambling, baking, traveling and picnics with her family.

She was a member of the VFW Auxiliary.

Survivors include her son, Roy McGill and his wife Shirley of Riverton; daughter, Dalene Lough and her husband, Ray, also of Riverton; her brother, Walter Loghry of Ogden, Utah; grandchildren, Lois Weberster of Mesa, Arizona, Kay (Gordon) Hull of Riverton, Kelly McGill of Kileen, Texas, Charlene Isbell of Casper, Penny (Charles) Lyon of Council Bluff, Iowa, Raymond Lough of Riverton, Sharon (Rob) James of Riverton and Sheryl (Tom ) McCoy of Toronto, Ohio; great grandchildren, Clint (Erika) McGill, Joyelle (Doug), Camielli, Adam (Kelsea), Dallin and Chelsea Webester, Charitie and Brandon Herd, Joseph Isbell, Andera, Sophia, Abagail, Skyler, Madison and Anna Bell Lyons, Chris (Christie) James, Crystal, Justin and Cassie McCoy, Trisia (Cory) Fox, Cortney Minor, and 11 great-great grandchildren.

She was preceded in death by her husband, parents, five brothers, five sisters, and one great grandchild, Chelsey Hull.

Memorials may be made to the Help For Health Hospice Home, care of Davis Funeral Home, 2203 W. Main St., Riverton, WY 82501.

On-line obituaries are available and condolences for the family may be made at: thedavisfuneralhome.com

Services are under the direction of the Davis Funeral Home of Riverton.