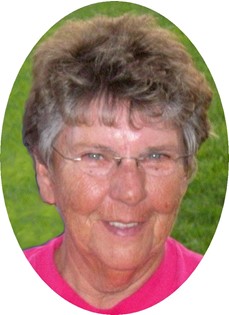 Karen Echo Goetzinger
Jun 2, 1942 - Dec 9, 2010
Karen Echo Goetzinger of Riverton died Thursday, December 9th, 2010 in Branson, Missouri. She was 68 years old.

A service will be held at 11:00 a.m., Saturday, December 18th at the United Methodist church with Pastor David Magruder officiating.

Karen was born June 2nd, 1942 in Wheeler County, Nebraska to Russell Earl and Geraldine Marie (Rosso) Childers. She graduated from Pavillion High School then from the University of Wyoming. Karen married Nils Gabrielsen on January 23rd, 1960 then later divorced. Karen married Harold Leo Goetzinger on October 9th, 1994 at Trinity Lutheran Church. She was a homemaker, teacher and coach.

Karen worshiped at Trinity Lutheran Church where her volunteer service goes way back. As soon as she retired as a teacher she started volunteering at the school She became the head coach for the volleyball team, "Mrs. G" came every Wednesday afternoon to help the 5th through 8th grade classes. Karen served as a behind the scenes volunteer for many projects at the church, in the computer lab, and lining up the volunteers for the photo directory. She served on the Thrivent board as the communications director, doing the mailings, putting together the scrapbook and providing fun games for events.

She founded the Pavillion Alumni Association, was on the Recreation Board when the Wind Recreation Complex was under taken, was a county fair supporter and volunteer, and worked at the Hospital Auxiliary as a volunteer. She was a PEO member and active in the Riverton Country Club Ladies Association. She loved teaching and coaching sports, golfing, making crafts and large gatherings of family and friends, and playing games.

She is survived by her husband, Harold, children, Janet and her husband Mike Morgan, Joyce and her husband Kevin Blankenship, John Gabrielsen of Riverton, Susan Goetzinger-Pogjline and her husband Rich, Sharon and her husband John Campbell, Shelli and her husband Nick Wilson, Kenneth Goetzinger; and; brothers Rich, Bob, John and Dave Childers, sister Geralyn, sister-in-law Beth Childers and grandchildren, Bill, Ben and his wife Lindsay, Kris, Steven, Laura, Gage, Jaylyn, Kade, Jessica, Bubba, Andrea, Shari, Zachari, and Sara, two great grandchildren and numerous nephews and nieces.

She is preceded in death by her parents, sister Leanne Childers, brother Paul and her favorite daughter-in-law Leslie Gabrielsen.

On-line obituaries are available and condolences for the family may be made at: thedavisfuneralhome.com.

Karen's wishes were that memorials be made to Trinity Lutheran School instead of flowers, 419 E Park, Riverton, WY 82501.

Services are under the direction of the Davis Funeral Home.