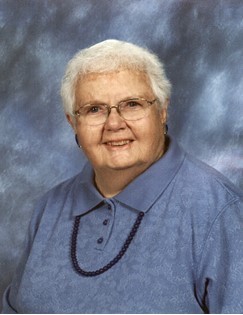 Mary E. "Beth" Logan
Mar 4, 1933 - Dec 26, 2010
Services to celebrate the life of Mary E. "Beth" Logan of Riverton are at 10 a.m. on Monday, Jan. 3, at the United Methodist Church of Riverton. The Rev. Mark Thurman officiates.

Viewing is one hour prior to the service at the church on Monday. Burial is at Mountain View Cemetery in Riverton.

Miss Logan died on Saturday, Dec. 25, 2010, at Riverton Memorial Hospital She was 85.

Mary E. "Beth" Logan was born in Riverton on July 9, 1925, the daughter of Charles Edward and Alga Juanita Logan. She attended the Riverton schools, being graduated in 1943.

She attended nurses' training at Presbyterian Hospital School of Nursing in Denver, Colo. As a member of the Nurses Cadet Corps, a program formed to train nurses for military duty during World War II, if needed, she was graduated in 1946.

She first worked at the Carrie Tingley Crippled Children's Hospital in Truth or Consequences, N.M., until 1955. During part of that time, she was director of nurses. The hospital was closed in 1955 and she moved to Albuquerque, N.M., where she worked until moving back to Riverton in 1957 to help care for her father.

In Riverton, she worked at Memorial Hospital, part of that time as director of nurses. In 1972, she moved to Palm Springs, Calif., where she worked at the Desert Hospital until her retirement in 1990.

Before and after retirement, Miss Logan enjoyed traveling with friends to Europe, across Canada, and the United States. Her family said these trips were highlights of her life. She also led a program of the United Methodist Church in Palm Springs, called Daily Bread, which made sandwiches for the hungry and homeless. The family said she also enjoyed reading, working puzzles, and visiting with friends.

Miss Logan was preceded in death by her parents; her three brothers, Edward, Malcolm, and Jac.

She is survived by a niece, Linda Sims and her family of Riverton; nephews, Steve Logan and family of Colorado, David Logan of Florida, Charlie Logan and family of Montana, Douglas Logan and family of Oregon, Kim Logan and daughter of Colorado, and Scott Logan of Idaho; many cousins, special among them are Doris Samuelson of Riverton and her five children, Olvie and Malcolm Booram of Riverton, Mary Adcock of Casper, Charleen Price of Arizona, Dorothy Rush of California; extended family in Missouri and New Mexico, close friends of many years in Riverton and other areas.

Memorials may be made to the United Methodist Church or a charity of the donor's choice, in care of the Davis Funeral Home, 2203 West Main Street, Riverton, WY 82501.

On-line obituaries are available and condolences for the family may be made at: theDavisFuneralHome.com

Services are under the direction of the Davis Funeral Home of Riverton.