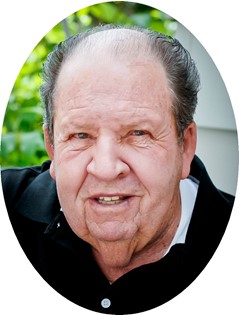 James D. "J.D." Hackleman
Sep 22, 1926 - Dec 22, 2010
Funeral services for James D. "JD" Hackleman of rural Riverton are at 10 a.m. on Friday, Dec. 31, at the Davis Funeral Home of Riverton. Pastor Aaron Justice officiates and interment is at Mountain View Cemetery in Riverton.

Mr. Hackleman died at the Wyoming Medical Center in Casper on Monday, Dec. 27, 2010. He was 81.

James Darrel Hackleman was born in Purcell, Colo., on June 21, 1929, the son of James Everett Hackleman and Marjorie (Simpson) Hackleman. He grew up in Weld County, Colo., and was graduated from high school in Eaton, Colo., with the Class of 1946.

He married Janet Lee Cook on Sept. 29, 1950, in Greeley, Colo.

Mr. Hackleman was a farmer. In his younger years he did custom harvesting with his father from Texas to Montana. The couple moved to Wyoming to farm in 1952, settling first in the Ethete area and then moving to the Riverview area where he continued to farm until 2010.

He was named the Outstanding Young Farmer of Wyoming in 1964.

Mr. Hackleman was a previous member of the Jaycees and the Beet Growers Association.

The family said Mr. and Mrs. Hackleman loved to polka dance and he was an avid bowler,loved to fish earlier in life when their children were growing up, enjoyed family gatherings, getting everyone together for barbeques, watching his grandchildren bowl, and was an avid Bronco fan.

Survivors include his wife, Janet Hackleman of Riverton; sons, Lee Hackleman and his wife Bobbie of Casper, and Barry Hackleman and Patty of Riverton; daughters, Peggy Forbis and husband Tim of Riverton and Lori Cook and husband Carl of Glendale, Ariz.; 11 grandchildren, Tara Bowden, Robert Hackleman and his wife Launa, Andrea Shiers and her husband Brandon, Bryan Hackleman, Oakley Hackleman, Chris Forbis and his wife Tiffany, Mike Forbis and his wife Tammy, Jeremy Forbis and his wife Shalini, Shelly Decker and her husband Bob, Justin Cook and his wife Rachel, and Matthew Cook; 10 great grandchildren; a brother, Gary Hackleman and of Loveland, Colo; sisters-in-law, Glenda Steinhoff and her husband Dennis of Pueblo, Colo., Sharon Hancock and her husband Dale of Gillette, Jane Baldwin of Gillette, and Debra Gardner and husband Jeff of Laramie.

He was preceded in death by his parents; a sister, Alyce Eckley; a brother, Bruce Hackleman, and daughter-in-law, Carman Hackleman.

Memorials may be made to the Hackleman Family, in care of the Davis Funeral Home, 2203 West Main Street, Riverton, WY 82501.

On-line obituaries are available and condolences for the family may be made at: theDavisFuneralHome.com

Services are under the direction of the Davis Funeral Home of Riverton.