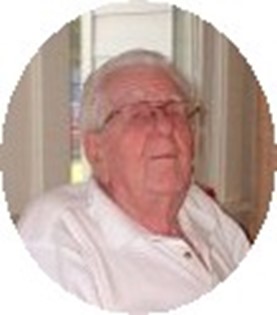 Paul B. Goedicke
Sep 7, 1914 - Dec 28, 2010
Masonic graveside memorial services will be held on May 23, 2011 at 11:00 a.m. in the Mountain View Cemetery for Paul B. Goedicke, 96, who died December 28, 2010, at Riverton Memorial Hospital.

Paul Goedicke was born on September 7, 1914 at the D-Ranch in Fremont County to Ernest Paul and Florence (Walker) Goedicke.

From the D-Ranch, near Holt, WY, the family moved two miles away on Bridger Creek to "Otto's Place," where his father continued to be the Postmaster and his Uncle Otto, the mail carrier. Paul spent his early years at Otto's Place. His mother home schooled him. In 1921, the family moved to Riverton for further schooling. After graduating from Riverton High School in 1932, during the depth of the depression, Paul held many odd jobs. He worked at the Civilian Conservation Camp (C.C.C.) for one year. Paul's first real job was in 1936, when he became employed with Gilpatrick Construction Company. He worked there first as a dragline operator and then moved into the office as a bookkeeper and then became the office manager. He ended up as the Cost Accountant and Estimator for road contracts throughout Wyoming. He also became part owner of the company, retiring in 1983 after 47 years.

He was a 50 plus member of the Masonic Lodge. He became a Master Mason AF and AM located in Riverton. He was a member of the BPOE Elks in Riverton (#1699).

After his retirement, he resided in Riverton and Lake Havasu, Arizona spending six months of the year in each place.

He was an avid hunter and fisherman.

Survivors include his nephews, John F. Goedicke and wife, Judy, Paul L. Goedicke and his wife, Kathy all of Casper, Peter R. Goedicke of Houston, TX; niece, Sally Janover of Big Fort, MT; grandnephews, William Goedicke of Denver, CO, Ernest Goedicke of Ogden, UT and John S. Goedicke of Casper, WY.

Paul was preceded in death by his parents, twins brothers that died at an early age, and also 2 other brothers, Dr. Victor A. Goedicke and Frederick E. Goedicke and sister, Jeanette Goedicke.

On-line obituaries are available and condolences for the family may be made at: thedavisfuneralhome.com

Services are under the direction of the Davis Funeral Home of Riverton.