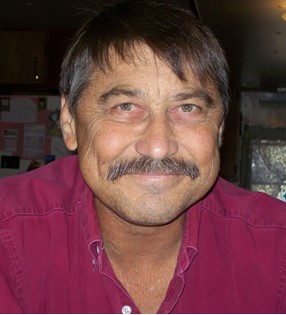 Rick O. Herron
Jan 11, 2011 - Jan 11, 2011
Funeral services for Rick O. Herron of rural Riverton are at 10 a.m. on Friday, Jan. 14, at the Sunnyside Church of the Nazarene in Kinnear. The Rev. Jon Martin officiates. Interment is at the Milford Cemetery.

Mr. Herron died at his home on Alaska Road Saturday morning, Jan. 8, 2011. He was 51.

Rick O. Herron was born in Brookings, S.D., on Jan. 18, 1959, the son of Marvin Earl Herron and Verla Delores (Carpenter) Herron. He was graduated from Rapid City (S.D.) Stevens High School in 1977.

He married Vickie Lee Adams on Nov. 18, 1979, in Jeffrey City.

Mr. Herron moved to various places around Wyoming, Montana, and North Dakota in his early years, then to Kansas. He returned to Wyoming from Kansas in 1994.

Mr. Herron was of the Christian faith and helped with outreach ministries, especially reaching children and other people through Thanksgiving food baskets. He was a carpenter who made wooden bowls and toys and, handicapped himself, worked with the Montgomery Trust Board for the visually impaired.

His family said he enjoyed his children and grandchildren, camping, hunting, fishing, boating, and praying and praising God.

Survivors include his wife, Vickie Herron of rural Riverton; sons, Shane Herron of the family home, and Jason Richmond and his wife Crystal of Black Hawk, S.D.; daughters, Jennifer Smith and her husband Nathan of Riverton, and Shawnna Herron of Cheyenne; five grandchildren; his mother, Verla Herron of Rapid City, S.D.; his father, Marvin Herron of Mountain Home, Idaho brothers, Mike, Tim, Scott, Dan, and Jeff Herron; a sister, Becky Herron.

He was preceded in death by a brother, David Herron, and a niece, Wanda Herron.

Memorials may be made to the Fremont County Office on Family Violence, in care of the Davis Funeral Home, 2203 West Main Street, Riverton, WY 82501.

On-line obituaries are available and condolences for the family may be made at: thedavisfuneralhome.com

Services are under the direction of the Davis Funeral Home of Riverton.